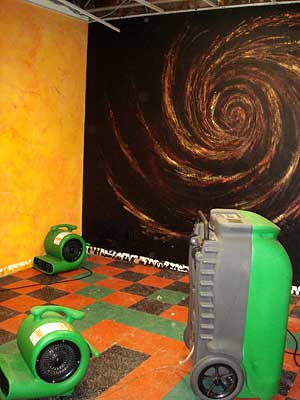 Because there was so much water released in the offices by the broken sprinkler system (first it rained, then it flooded), the whole place has to be dried out to prevent mildew. So now there are about forty noisey green machines –high-powered fans and dehumidifiers — running night and day. It's a little like trying to work inside a windstorm, so it seems ironic that we have a whirlwind painted on the wall of what used to be our conference room.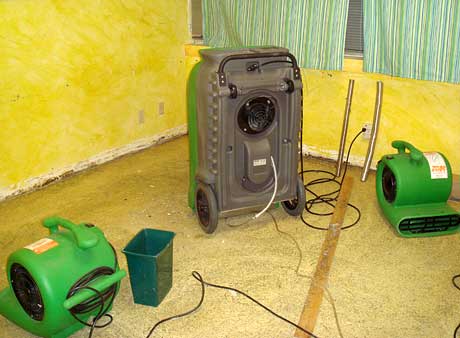 This is ground zero, where it all started, but now the custom desk and carpet are removed. Nice of the de-humidification company to bring decor-matching equipment.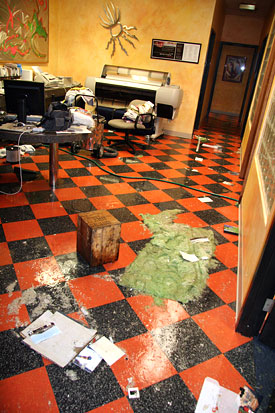 Not only all carpet has to be removed, also all the ceilings and (wah) our beautiful tile floors. I think the hand-glazed walls may be the only thing safe from total replacement.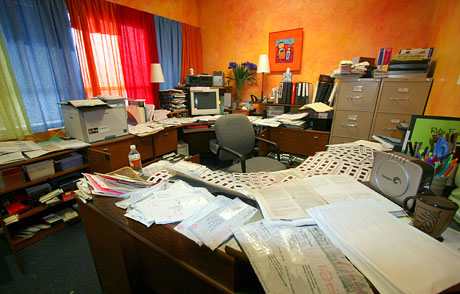 This was my office, peacefully drying out slides and papers. That was before they torn out the ceiling and the green machines blew papers all over the place.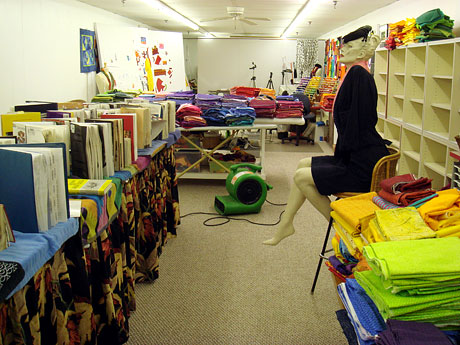 My studio in the back of the warehouse fared pretty well, except water from the flood crept under the doors and into the carpet. It wicked across the room, spoiling lots of things I hide under the table and into the flannel on all my pin boards. So we've moved those down to dry.
What about all my fabrics, you may ask? All okay, except that I had them packed so tightly on the shelves, that just to be safe and prevent any potential mildew problems, I've moved them off the shelves so the de-humidifiers can circulate air around them. Tomorrow we'll move more green machines back here. Some really nice art books are drying on the table, and Madalaine waits patiently for all this to be over.