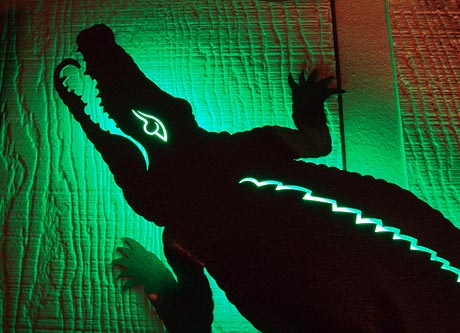 Greetings from the Tiki Bar! We're moving our offices back into the warehouse, because of mass destruction and chaos in the front of the studio. I'll send more photos as we get settled in and the place becomes more photo-friendly…In the meantime here's a quick February One update.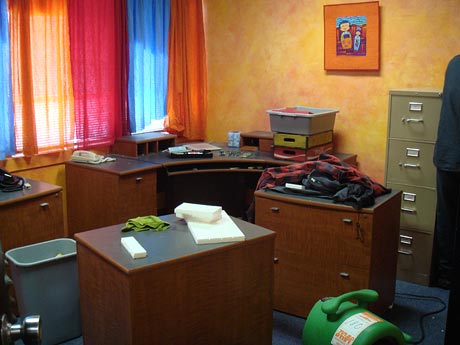 The green machines have multiplied, and now we're blocking up or moving out furniture because there is still moisture in the floor and carpet. This used to be my office, now everything is spread all over the place, and I can hardly find anything, much comprehend what it is when I do see it.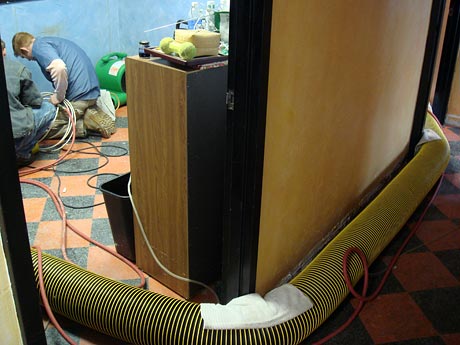 Meanwhile, the heating ducts under the floor have to be cleaned because they were filled with water which also went into the furnace. This is a vaccum attached to a truck-mount system that was so loud that I couldn't hear the fire alarm when it was being tested today.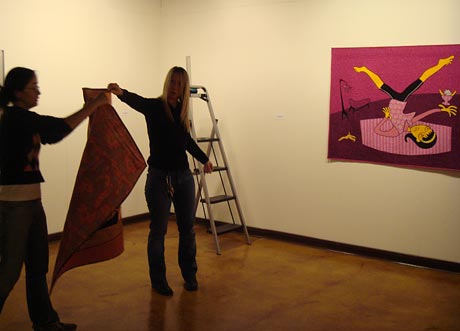 Yesterday the Perils of PaMdora show was over, so we had to find somewhere to store all that stuff. It was freezing cold and then snowing. Rebecca may be right, I must have really pissed off Mother Nature. Maybe she's mad that she wasn't in my quilted cast of characters. So definitely I'm going to put Mother Nature in my next quilt. Actually I've thinking about putting her in a professional wrestling costume. I thought of that last December when she snowed out my show opening, and apparently she's not going to let me forget this idea.
Taking down the show was real pain — in the foot! because yesterday I dropped a heavy saucepan on my foot and think I broke something. Maybe I shouldn't be climbing on ladders until it heals, but a girl's gotta do, what a girl's gotta do.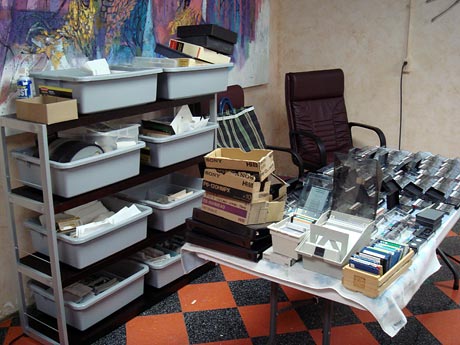 On the bright side, those wonderful Christmas Elves that helped me before my show showed up to organize and clean, in fact Merrilee, Lettie, and Lucy helped organize photos, files, move furniture, wash towels, and cheer me up!
And for the last two days, I've been trying to find time and sanity in all this chaos to finish fourth quarter tax reports that have to be filed. At least my typewriter is still working- ha ha!