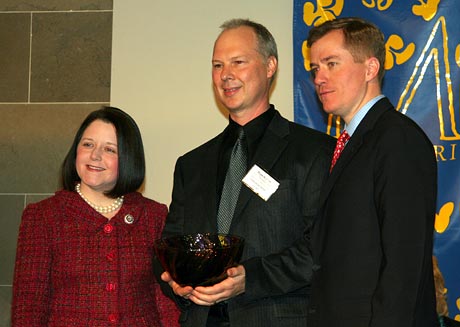 On Wednesday, we were at the capital for the 2007 Missouri Art Awards. Here is Russ standing between Missouri State Govenor Blunt and the First Lady, just after he received recognition in the Individual Artist category — the highest honor an artist can receive in the State of Missouri.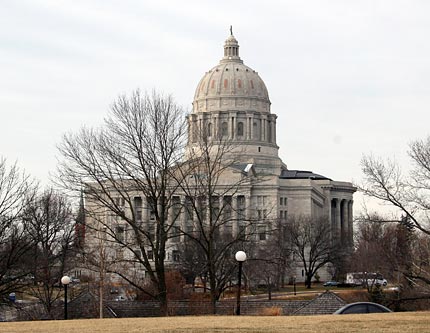 The ceremony was held at the State Capitol building. Although I grew in near this building, and it was always a part of our hometown landscape and culture, I don't think I really appreciated it when I was there.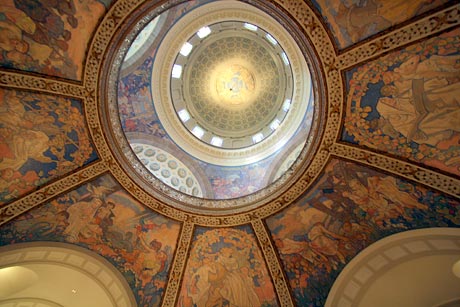 Since then, I've read some histories of the building. Most surprising to me was that 25% of the original architectural budget for the building was earmarked for decoration. Decoration! Do you realize what that means? That means ART! It does put some of our current 1% for the arts programs to shame, and remember that many building budgets don't even have that.
This explains a lot about the building — the fact that there are statues, carvings and paintings everywhere throughout the capitol. Most famous are some large murals painted by Thomas Hart Benton. Above is a photo looking up through the rotunda, but I don't know who painted these murals. There also should be a huge chandelier in the center, but it got dropped during cleaning and maintenance last fall. I think it's going to take $600,000 to replace.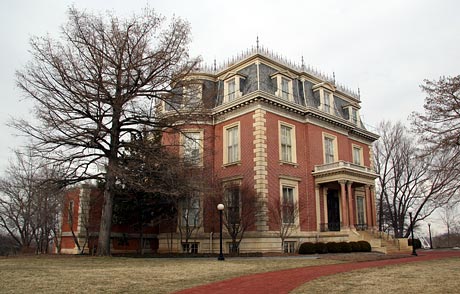 After the ceremony, we all traveled a couple of blocks to the Governor's Mansion for a nice reception. Many friends of the arts in Missouri were there to celebrate because Governor Blunt has recommended $8 million in his budget to go the Missouri Arts budget, up from $3 million last year and up from zero in 2004. Yay! All in all, it was a good day for the arts.