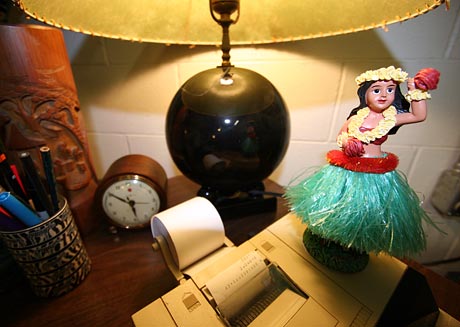 Moving back to the warehouse has not been so easy, especially working by torchlight (heh, just kidding.) But at the same time, it's reinvigorated my interest in the Tiki Lounge that we built in our studio several years ago. I learned something new about the origins of tiki. Apparently it was started in California by a guy who changed his name to Don the Beachcomber, to match the name of his restaurants that were popular in the 1940's and 50's. As I read about Tiki origins, I realized that the common attraction then and now is, people are looking for a fantasy escape…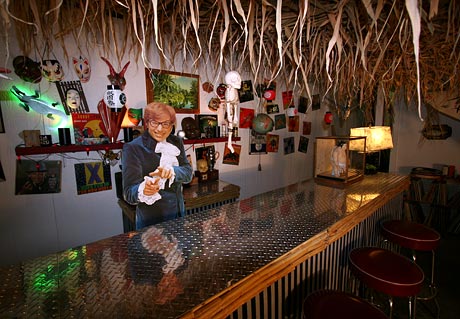 We built the Tiki Bar it after an inspiring trip to a San Francisco swing club that had a cool Polynesian bar, the kind of place that serves drinks in coconuts with little umbrellas. When we returned home, we put together our own version of a Tiki bar and Art Lounge in a side room of the warehouse. Russ topped the bar with metal, I covered the sides and roof with bamboo from our garden, and the stools came from Target.
Austin Powers isn't a very good bartender because he's only cardboard. But the Tiki Lounge was a great place to hang out, play pool and host Halloween parties. But then we got busy, and the dust accumulated, and the Tiki Lounge fell into shadows.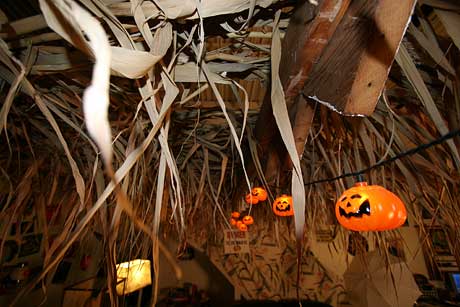 But now, moving back here and looking at all this stuff everyday has revived my optimism for the strange fantasy world of island life, mysterious objects, and far away places. I've decided to embrace the decor, and actually enhance it! As a matter of fact, when all this renovation is over, I might just move the Tiki decor up front for a more prominent place.
So far, I've newly acquired a fake banana tree, a retro Metal Art Desk, Hawaiian music box, coconut cleaver and assorted funky lamps. I dug the Hawaiian Hula girl and bowling trophies (my grandmother's) out of boxes, and dusted off rocks, baskets, and Asian masks. It's been fun! Okay, but I wouldn't go this far. For the more adventurous DIYers, here's how to make a Tiki fireplace using foam. It's even got eyes that glow.