Last week really did turn out to be a scrabble to get ready for a tour we agreed to months ago. The Missouri Art Educators Association had their state conference in Springfield, and one of the professional development tours was to visit Russ's public art and studio
.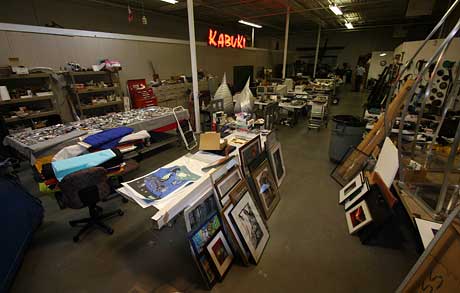 The only problem was Russ's metal-working area was still full of water-damaged stuff. Actually, I shouldn't say that, the other problem was, our front offices are now missing ceilings, carpet, and furniture. Looks like a bomb went off up there.
But the teachers still wanted to visit, so we got to cleaning — actually it was a good motivator for me to roll up my sleeves and start to deal with all this stuff. Trash it, salvage it, replace it — what to do with each item? Yuck. I think the decision-making part is more tiring than the physical work, although whenever we get ready for a big event, I usually get blisters on my feet no matter what shoes I wear because there is so much space to cover.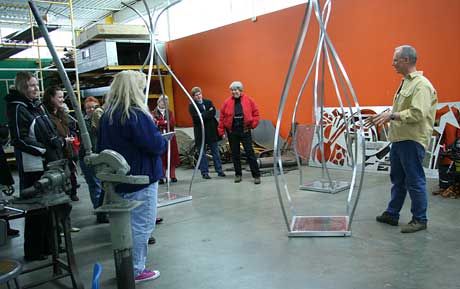 But we did pretty well, and Russ has a new work-area set up in the back warehouse. My studio is pretty much back to normal (except for water stains on the pin-boards), so that part was easy. The teachers were thrilled, cheered at the end of the tour, and invited us to their lunch banquet — which for me was rather eye-opening in terms of the state of education and creativity in our schools. More on that later, I've got lots of news saved up…
Moving the blog to WordPress
You may have noticed I haven't written in a week. I've been working late every night getting all my old blog moved over to WordPress, and it was a bear of a job. I couldn't find a way to import all 300 posts over the last two years, so I had to cut and paste. I still need to work on my sidebar, and I don't know if I'll be able to move all your comments, but I hope to be better at responding. Just leave me your email in the address box when you comment, so I can! (it doesn't get published.)