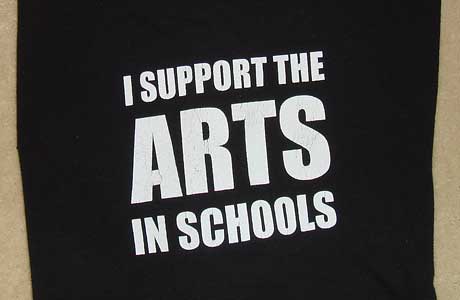 This is a T-shirt Russ often wears at sculpture installations. Although Russ and I aren't teachers, we've always done what little we could to support art teachers in our area — things like giving poster board for school art exhibitions, helping facilitate school art exchanges with other countries, and when school budgets are being cut, helping run a campaign for a friend to get on the school board and support the arts.
So even though our studio is not in top form, when the Missouri Art Education Association still wanted to tour the studio last weekend as part of their annual conference, we worked hard to make it good for them.

I was pleased to find out the teachers worked with all ages…grade school through college. After the tour, we attended their banquet, met some great folks, and it was fun to read through the schedule for the whole weekend — tons of workshops to inspire creativity and introduce new techniques to take back to students.
There were 470 teachers at the conference this year. These conferences are good for the teachers, especially some who are the lone art teacher in a school, or even for several schools, since some budgets are so low teachers travel to two or more. What I didn't realize until talking to several teachers is they feel like they are last area in schools to encourage creativity in our kids. Other curriculum teachers are working so hard to get ready for tests that are now mandated by the government, that they no longer have time for any creative learning projects such as pen pal exchanges with other cultures.
My reaction to this was surprise and sadness. How do kids deal with this kind of rigid environment? Since I was a kid who started in a non-traditional school atmosphere and had a hard time dealing with the transition to public schools, it was only the special and creative projects that helped me hang on. It seems inevitable there will be more dropouts and rebellion — and on the other hand, the loss creativity and innovation in our kids is something our country will severely regret.
Anyway, try to support your local art teachers. They need all the help they can get!