A funny thing happened to me on the way to the e-mail box….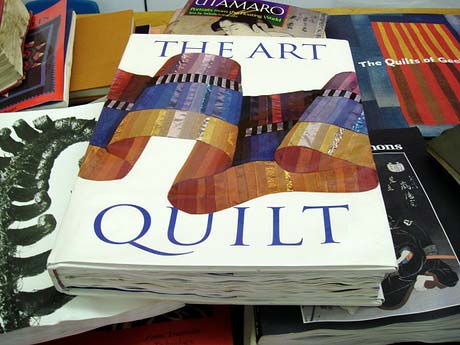 I was working on a list of all our fine art books that were damaged in the flood — looking up the cost of replacement on Amazon, when I got a message from Ebay. "You have not paid for this item…"
Something silly I had bid on late at night for no good reason other than it reminded me of this sculpture by Claus Oldenburg. The Ebay seller was very nice, but would like to be paid. So I quickly sent an apology, explaining that it was my mistake. Although I'm not always the quickest to answer email, I try to always be friendly, to put some human personality inside those little black and white text boxes.
Holy cow, the person on the other end of the text box turned out to be an art-quilter, and she sent me to her website. Holy cow! Does the work look familiar? It's Joyce Carey, the cover artist for Robert Shaw's famous book The Art Quilt! What a weird coicindence that I had just been looking up that very book and Joyce's imagery was fresh in mind.
The world is a weird and wonderful place, with all kinds of magical connections waiting to happen. Now I have another new friend!
But now to get back to spring cleaning, because I need to get this flood stuff out of here and back to making art. I had read on the internet that to dry books you should fan them out upright on a towel. Too late I read that you're also supposed to alternate that daily with pressing the books flat so they're not so wrinkley. Lesson learned, but now all those books are real fat, and we're going to have to get wider book shelves.