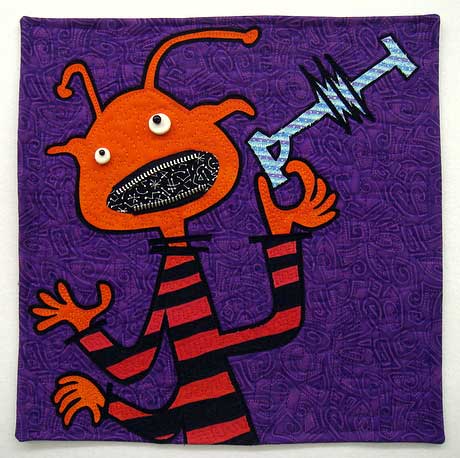 The sad truth is — yesterday was the first day since January's ice storm that I laid a hand (or foot) on my sewing machine. This must change!
Today I finished this small quilt, it's only 12″ square. I'm donating it to Studio Art Quilt Associates for their fund-raising auction at the SAQA conference next month. I've never made a donation quilts because I usually find the format too restrictive. But I like working square, and this format is big enough that I can use images I like. Also I've been impressed with all that SAQA has accomplished in the past two years I've been a member. Under executive director Martha Seilman and the board, they're accomplishing tons of stuff, so I'd like to contribute. But most important…. I already had all these spare parts laying around!
I call it "Take me to your Dentist!" (as in Take me to your Leader! from old scifi movies) The zipper was the hardest part because my hand-sewing skills are lame. And I'm not sure the eyeballs turned out right. I made them out of Sculpty so they would be off-center and look a little wacky. But Jan has been emailing me links to how to make eyeballs, eyeballs, and more eyeballs, (I actually like the last one the best), so if I get really ambitious… who knows?