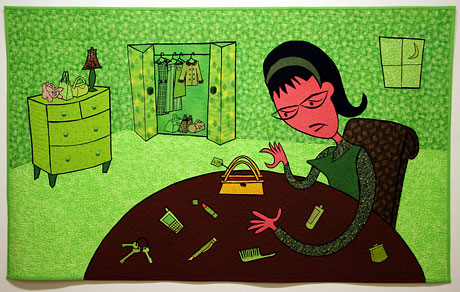 Last weekend Fiberarts International 2007 opened in Pittsburgh, PA, and will eventually travel to the Mint Museum of Craft + Design in North Carolina. My quilt "The Vintage Purse" is part of the exhibit, but I couldn't attend the opening or next-day fiber forum. I was hoping to find some news about the events on-line, but have seen nothing. If you attended, please let me know how it all went.
For me, this quilt is one of those sweet spots you hit when you're in the groove. I did the drawing and quilt pretty quickly, all in one week. But a lot of people seem to like it, especially the cute little vintage buttons that act as 3D elements on the dresser drawers, closet, and purse. You can see more closeup details of it on my website here.
Last week a photographer I've long admired, Julie Blackmon emailed me that she saw my winter show and "Vintage Purse" inspired her to create a photograph called "Vintage Wallpaper." I'm dying to see her version, but we haven't been able to get together yet. I only know Julie through the internet, her work and press, which she gets a lot of because she wins lots of awards and is in important collections. Be sure to check out her website, I guarantee you'll be enthralled with her work. But you want to know a really crazy thing about her? She only lives one block from me!