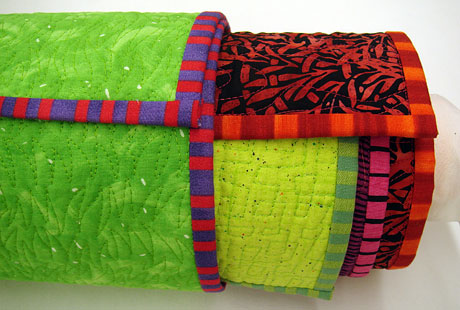 Yes, I'll have the stripey fabric wrap, quilted with a little saucey attitude.
Just kidding, this week I had to wrap up eight quilts, three of them big ones, to ship to Grounds for Sculpture for their Spring/Summer exhibition. I've never shipped so many at once, so it seemed a little awkward, until Russ came in and said, "heck that's nothing like moving big piles of neon for sculpture." Point taken.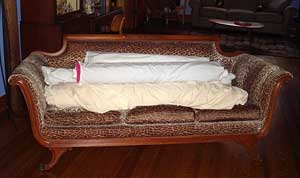 A matter of fact, ease of shipping work to shows was one of the determining factors when I chose this medium. Truthfully, how many artists can put a whole show on a sofa?
So the quilts are there now, and I'm mailing out my stash of invitations to the opening for Saturday, May 12 from 2-6 p.m. The Reminiscence show should be really fun with artists like Susan Glasgow Taylor, Jil Weinstock, Lia Cook, and Leah Poller among others.
In the other building will be an exhibit of Richard Jolley's glass sculptures. Not to mention the 300 plus outdoor sculptures that populate the beautiful gardens.
If you're in the area, I may have already sent you one. Or email me with your address, I have a few extras. You have to have one to get into the Grounds on that day.