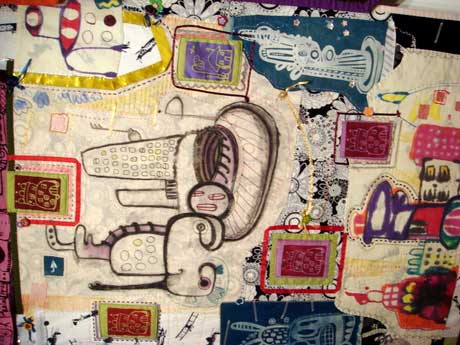 The reason I missed the bird house auction was a quick trip to Kansas City for the Kansas City Art Institute alumnae weekend. I'm not an alum, but someone I'm well acquainted with is. The first night was consumed with traversing the First Friday Art Walk, a totally fun event centered around the Crossroads Arts District. Galleries were packed, and a stand-out to me was seeing Lisa Marie Barber's quilt and ceramic exhibition at the Leedy-Voulkos Art Center. I was totally captivated by the complexities and textures that she layered on her quilts (detail photo above is from "Buildings.") For a review of the show, go here.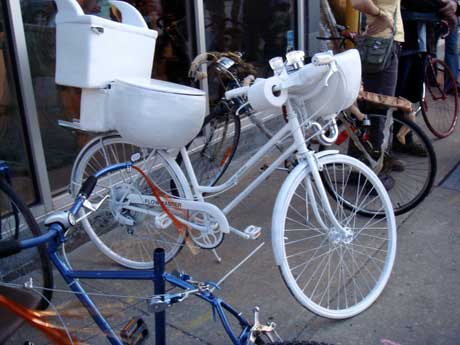 Outside of the KCAI student sculpture exhibit was a real treat — art bikes galore. Apparently the KCAI sculpture students are being assigned an art bike project, due to a generous donation of old bikes. One requirement, the bikes must be functional to participate in art-bike parades. However I wish there had been better title cards, because nowhere could I find the author of this "comforts of home" bike. Only clue is that the "manufacturer" is printed on the frame — FLOWMASTER. Don't miss the clever installment of the most necessary TP accessory.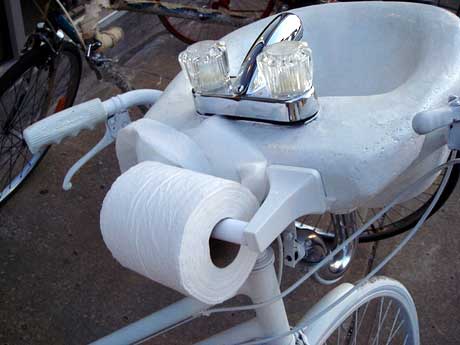 Another shocker of the evening was walking into a gallery and seeing some vaguely familiar work — vintage dresses cast in some sort of weird waxy resin.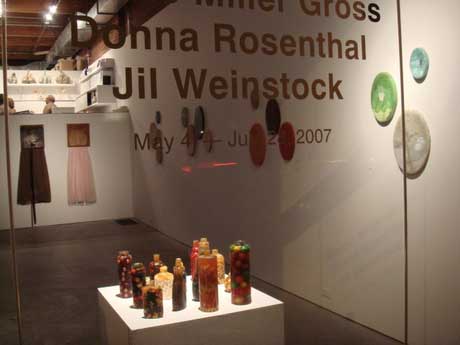 Holy cow, it's Jil Weinstock, someone I only know because I'm in a show with her that opens next weekend. To top it off, she was even there, all the way from New York to do an artist's talk. After seeing her work in person, I'll all excited to see her again next weekend and ask if she wants some of my vintage dresses to work with. I'd gladly give them to her because that would be way cool.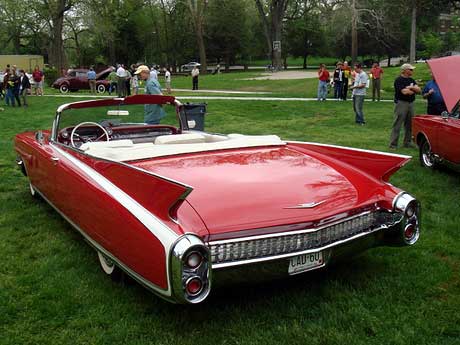 The next day on campus there was a Art of the Car exhibit, and I had to to snap lots of photos of this beauty because, as Russ said, this must be a PaMdora car.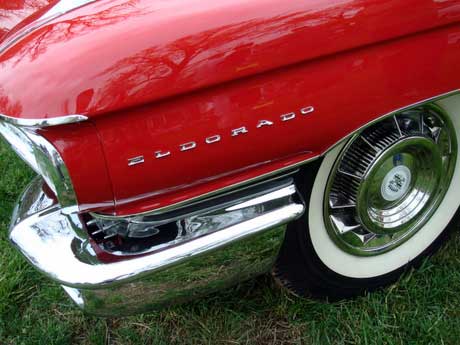 Most interesting is the Cadillac name, because by coincidence later that same afternoon, we had a great lecture from this KC architecture firm called Eldorado that specializes in design solutions using artists.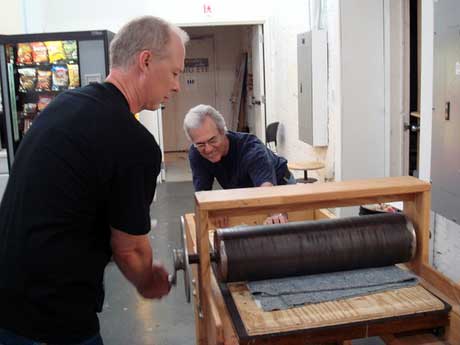 Between prowling around in the different departments and getting some ideas for our own sculpture studio, we had a fun mono-print workshop using this contraption in the design department.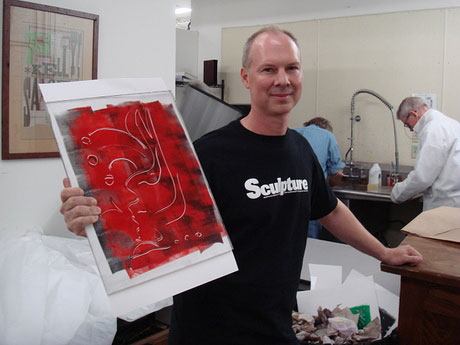 Russ's prints turned out great, and mine were a total botch, so I happily abandoned them. But if you haven't had enough serendipity yet, at the workshop we did meet up with my friend Terri, from high school who graduated from KCAI and is now teaching there in the design department. Sorry I didn't take her photo because she's a real a cutie!
To cap off the weekend, we got to see Carmen by the Kansas City Ballet — most interestingly because the set design was done by Jason Pollen, president of the the Surface Design Association and professor at KCAI. Here's a story about how that sculpture was designed.
The next day was a mad scramble to get out of the city as a huge storm descended early in the morning. After a beautiful two days of nice weather, it was a little eerie driving through the dark clouds and flooding streets to the light at the edge of the storm.