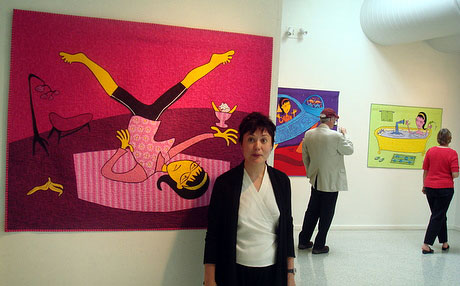 Gosh, I don't know what I've been caught doing, but judging by my expression, it must be bad. I know I've been tagged while I was gone, not once but four times. But honestly, I haven't had time to do any posting since we've been traveling to four different states in the last five days. I promise I'll get to it, Beate, Deborah, Liz, and Larkin…
Actually it's ironic that one of my Yoga quilts is hanging in this exhibition space at Grounds for Sculpture, because about this time last year I was doing the real thing here on the floor. While the park was closed, of course, and while I was waiting for my next assignment in Russ's complex installation of neon sculptures. It did give the security guard a start when he rounded the corner and found me upside down on the floor.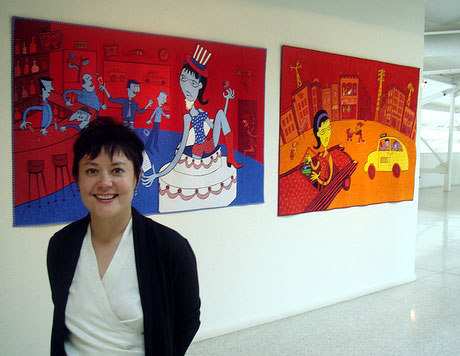 Although I decided to let my hair grow out into an appropriate flip-do for the opening, I guess six days wasn't enough. I did wear a fancy new lace headband though, but apparently black on black doesn't show up in photos.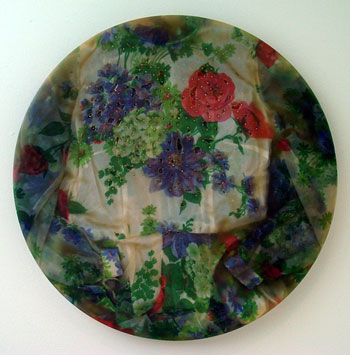 It was so fun to look at the other artwork and meet the artists. I was happy to see Jil Weinstock again, after meeting her last weekend in Kansas City. She does all kinds of crazy things with dresses and zippers cast in rubber. This casting is called Halter Garden Gown. I was so inspired, when I got home I mailed her a vintage dress that I hope she can use in her work.
Another artist I enjoyed meeting was Diana Moore. She made this fantastic series of purses out of carbon steel — Remind you of anything? All the purses have subtle imagery of feminine anatomy from various viewpoints. This one is called Holy Purse…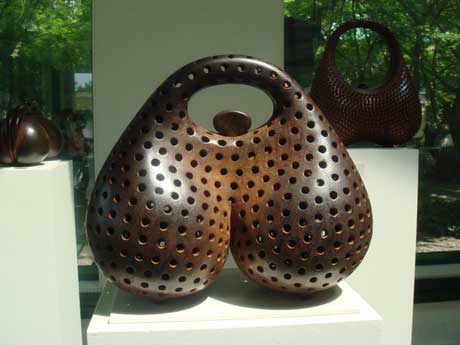 And surprise! The purses all open and some even have keys. I could actually use a purse like this. It looks like it weighs about a hundred pounds, so I could use it to build up my biceps and as a weapon in dark parking lots.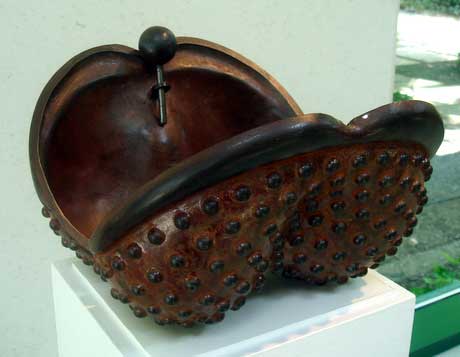 There was also great work at the show by Lia Cook who makes huge figurative tapestries, Leah Poller who makes humorous bed sculptures, and Allen Topolski who makes strange retro-looking appliances that have very mysterious functions.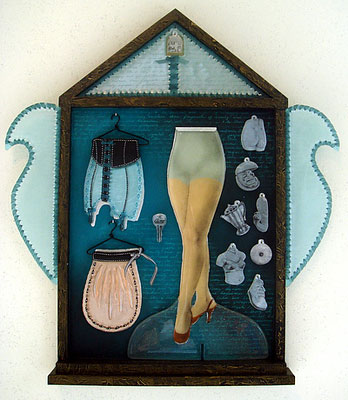 The only artist who wasn't at the reception was Susan Taylor Glasgow, but I enjoyed seeing her fused glass work in the form of coffee pots, aprons, and cakes — all made of sewn glass.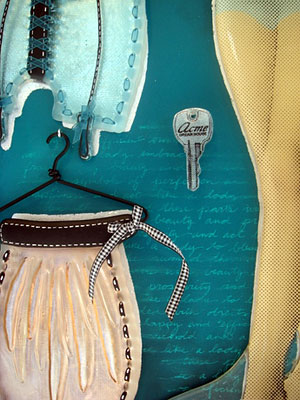 This one is called Acme Dream House #2.
What's not obvious until you move in closer is the depth, detail, rich textures, and seamless (no pun intended, he he) integration of ribbon and glass. What an inspiration!
Oh yeah, I also want to thank all the friends and family who came out for the opening and brought their smiling faces. You made my day!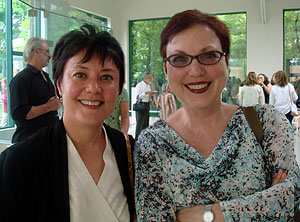 Update: Since I've driving all day (across five states to get to a memorial service tomorrow) I had a lot of time to think about this post. I realized I forgot to say who the person in this photo is — artist Joanie San Chirico who showed up at the reception. Previously we'd only chatted via email, but when she walked in the room, I felt I had known her a long time!