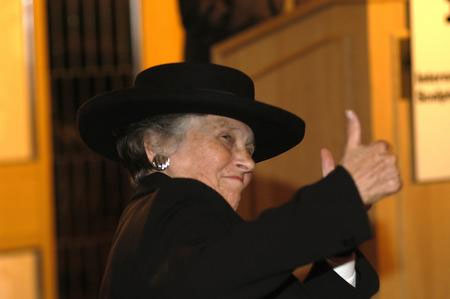 This morning someone left the front door wide open, so that when I got up for breakfast, a huge gust of spring air hit me full face. I felt like I was almost drowning in the glorious morning air.
Strange that I should feel so invigorated, since we had been up the whole night before, driving home from Cincinnati from the memorial celebration for Pat Renick or "Mother Art" as she's often called. Pat was an artist, a sculptor, an educator, a mentor, and a friend to so many. We were lucky to see her at various sculpture events around the country, sporadically and sometimes far between. But she was one of those people whose words and contagious enthusiasm would stick with you long after. You can read more of her accolades on art critic Sara Pearce's blog.
Pat always wore a hat. She said they were handy when you don't want to make eye contact, or are rather bored at meetings, and that conversations when you're wearing a hat are always more interesting than conversations without. So everyone wore a hat to the memorial celebration — wonderful hats with dinosaurs, hats with barbie dolls, with shovels, vegetables, sunflowers, you name it. It was a great event for a great lady.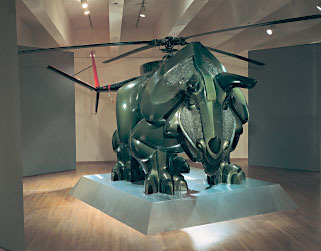 Looking back to her work in the 70's, her themes are still universal and fresh. She transformed a VW car into a dinosaur to send signals about our dependence on fossil fuels. Another sculpture, Triceracopter: The Hope for the Obsolescence of War, is a dinosaur built on the body of a honest-to-gosh army helicopter. It's amazing to read her descriptions of how she built these things, using roasting pans in her kitchen oven and a tent in the back yard in this conversation in Sculpture magazine.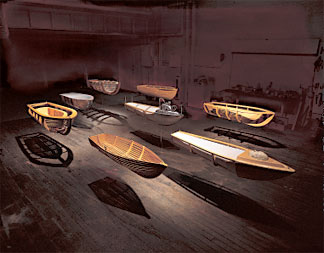 Later work her work became more haunting with Life Boats: Boats about Life — sculptures that make allegories to different voyages in life and death.
But as Pat said, "I've often had two parallel lines of creative work. One is playful and humorous, especially in drawing and sometimes in sculpture. At the same time, I've had enough experience to recognize issues in my own life and in the larger world. My work moves in both directions, and sometimes the two come together in unexpected ways."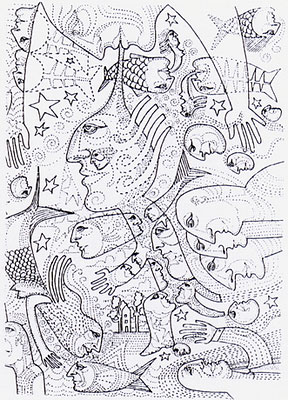 While staying at her house last year during Russ's sculpture installation in Cincinnati, I had lots of time to study the framed drawings on the walls of her house, drawings that sometimes feature the adventures of Sky Woman, who would fly around the world, tirelessly fighting those who "thrive on tearing the wings off dreams."
At sculpture events, I usually feel like a tag-along, a non-sculptor. But not around Pat. She always had time to check in with me and to encourage me through the years before I found myself making art quilts. She's one of those people I have much to thank for, but most of all for her belief in me, as an artist in search of an art. For her belief that everyone can find the artist within.
So this morning, when the fresh air hit me with gusto, I thought it would be good to start a ritual of throwing open the front door and walking out into the morning, rather than sneaking out the back door as I often do. And I felt Pat's hands on my back, pushing me through the front door.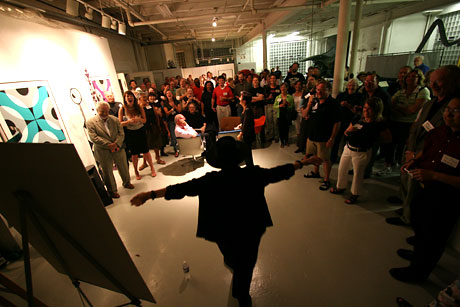 In closing, here's a photo of Pat at one of her and Laura's grand parties and a quote by one of Pat's heros, Molly Ivins:
Be sure to tell those
who come after
how much fun it was.