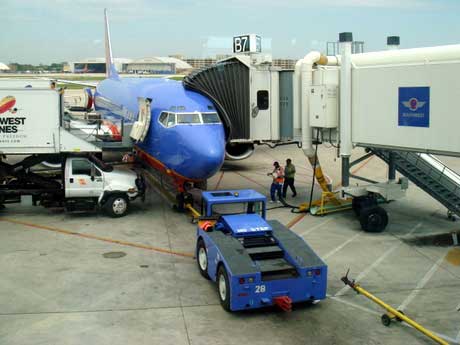 Since we couldn't use the dog scooter, we had to resort to a more traditional form of transportation to Athens, Ohio. I ws totally inspired by the activity and colors of the Southwest planes, and took lots of photos of the baggage being loaded on our plane. Great colors for a quilt, don't you think?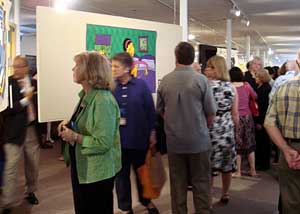 The Quilt National opening was mobbed. More people than the last show and so many people that you couldn't hardly see the quilts — see what I mean? I'm going to have to return tomorrow to really see the work because there's lots of great stuff that I missed.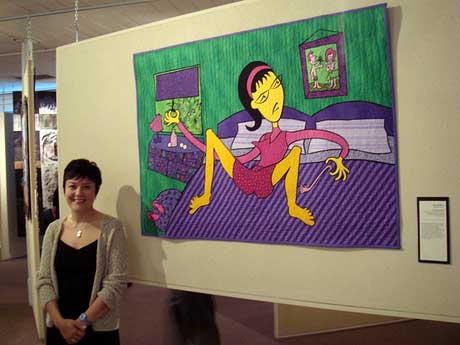 When I made this quilt, I was so focused the story behind it that I didn't realize what it might look like if you didn't know the story or read the title. But all evening I got questions about what the crotch shot was about. It's not about that, it was because I had poison ivy so bad that I just lay on the bed, trying to to let anything touch my legs, not even each other.
If you're wondering, the pink thing is one of those plastic back-scratchers with a little human hand on the end, just because I think those things are kind of creepy and funny. And in the painting behind the bed, Adam is trying to give Eve a poison ivy leaf, just to put a different spin on an old story.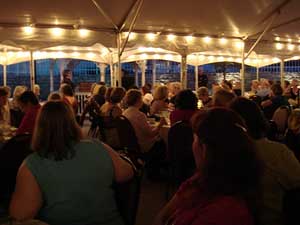 The award dinner was also packed, and it was fun to see lots of folks I hadn't in a while, and some new ones too. Luckily I wore a sweater in case the air conditioning was too cold. Unluckily, the banquet was outside in a tent, so it was swelteringly hot.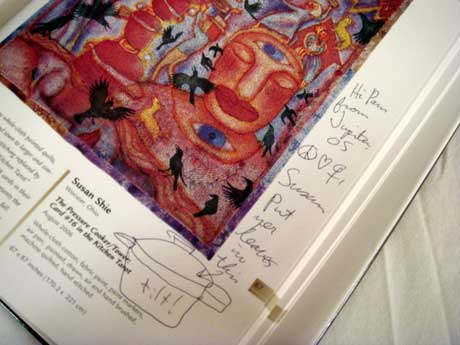 At these things, it's fun to go around and get everyone to sign your book, kind of like a high school annual. Susan Shie whose wonderful quilt is on the cover of the new book (it's also very handsome – order one today!) even drew me a steam-pot to put my poison ivy leaves in! What a hoot!