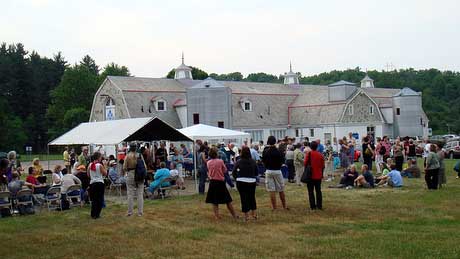 In the words of Prem Joshua, "Tonight, let us speak of love. I can think of no better subject until the day we die." I've been writing a lot lately, and it struck me that artists don't seem to talk about LOVE very much. Maybe love isn't one of those good art-speak terms, unless it unrequited love, or sad like that. I was thinking about putting the word in my artist statement, just to see what happens. What do you think?
Anyway, here's a last few photos from the Quilt National 07 opening weekend — this is the artists' party on Saturday. Hillary Fletcher, the heart of Quilt National for so many years, used to have this party at her house and make all kinds of fancy homemade cheesecakes. She was much missed this weekend, and now the party is outside the Dairy Barn.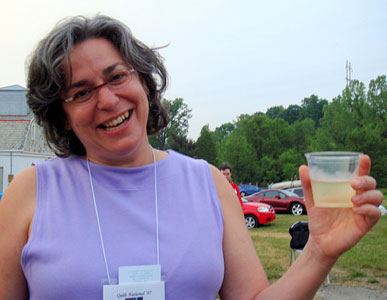 Here's one of the exhibitors I loved meeting — Judy Rush, and I think she's got a lotta love in that glass. Okay joking aside, it was great to meet artists whose work I love!
One last thing while we're on the topic — I took this photo at the Franklin Institute of Science in Philadelphia while we were there to see King Tut. Now this is a guy with a big heart!