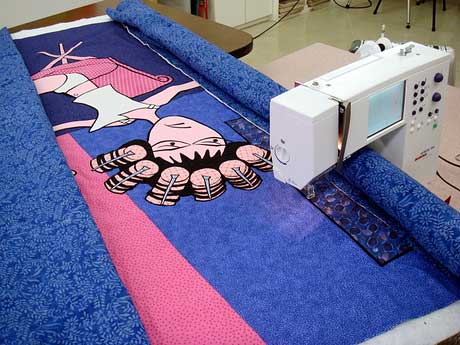 It's always exciting to take a design off the wall and start to quilt, and sometimes a relief. A relief after days (or sometimes months) of looking at, struggling with the composition, colors and patterns and finally committing.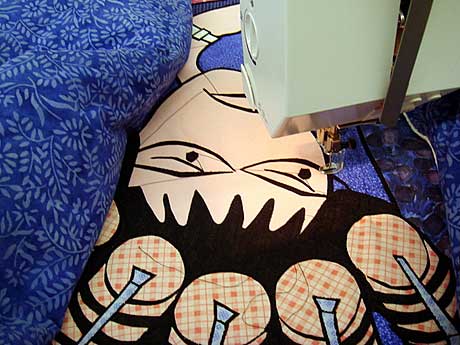 Usually I start in the center, or with PaMdora's face, which is this case is both and makes it kind of tough since there's a lot of fabric to handle on each side. I start with the blacks to warm up and get my groove back, especially necessary after a long sabbatical from quilting.
Quilting is a meditative process, and I like to think of the stitched line as a thread of thought wandering over the surface of the entire quilt. As I sew, I imagine things to guide my hands and needle—images of grass, wind, water, leaves, kneecaps, noses….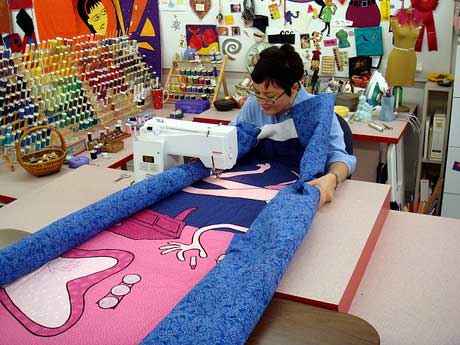 Unfortunately during the thigh-stage, I couldn't get cellulite out of my mind. On to a happier topic — check out my threads! They look organized, but I never slow down to wind the ends back onto the spools after I use them, so everything ends up a gnarly mess. I just give the whole rack a haircut when I'm done.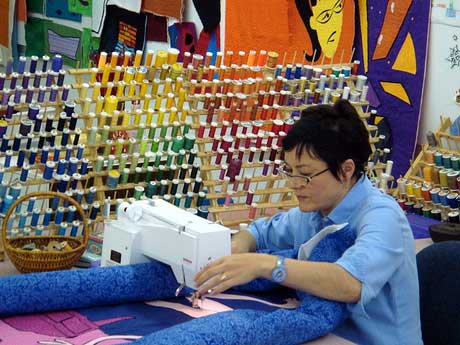 to be continued…