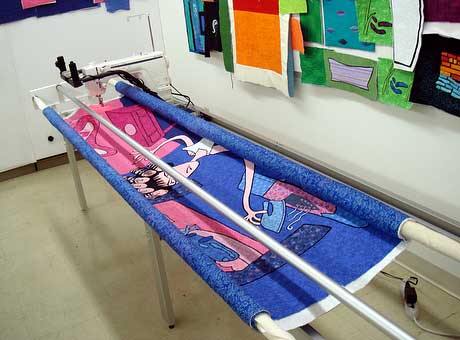 After I do a lot of my detail work on my small Bernina machine, I pin the quilt onto an Inspira frame and use a bigger Viking machine for the backgrounds. It's not a long-arm. It's only a couple of inches longer than my Bernina, but it's a lot faster so when I go back to the Bernina, I tend to break needles because I'm in the habit of moving fast. When I first got this Viking machine last year, I thought it was too noisy and fast. I felt like I was trying to be creative with a wood-chipper or a bag of chipmunks, which is what it sounds like.
Now I'm really loving it, although still working out some of the kinks in my process. I actually move the quilt back and forth between the two machines several times before I'm done with the whole project.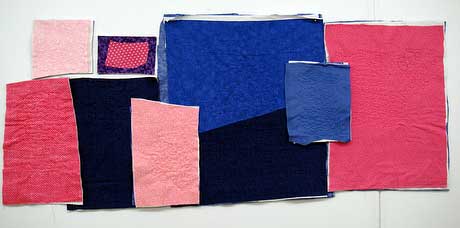 These are some of my practice samples — I develop new stitch patterns for each part of the quilt. Because I match the thread to my fabrics, the effects are subtle — you have to get up close to see the different stitching motifs.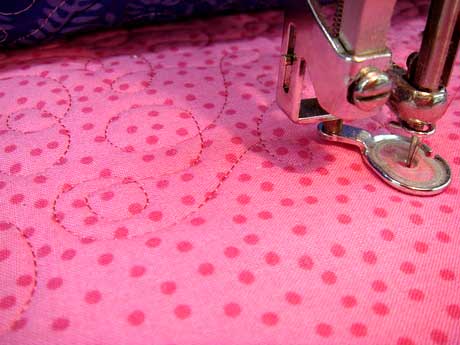 The stitch patterns can be symbolic or decorative. This one doesn't really mean anything, I was just happened to be thinking about lassos because I had seen City Slickers the night before (not a very good movie, but a cute cow.) So I think I'll call this pattern, Happy Cowgirl.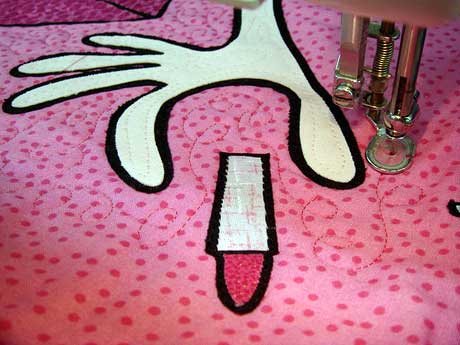 Happy Cowgirl works good as I move around objects and into tight places. Some of my other patterns aren't so flexible, so I have to improvise.
There's a different stitch on the blue background, inspired by some abstract patterns I've seen on 50's furniture or fabric. I used a variegated pink and blue King Tut thread for this, and if I get my rhythm right, the pinks fade in and out in a nice way.