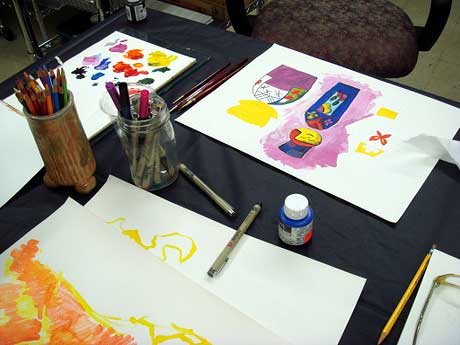 Although I don't know that much about feng shui, I have learned this — face my desk towards a wall and I don't get anything done. Why? Probably because I don't even want to sit at it. It always seems to make sense to put a desk up against a wall to efficiently use space, but when my sewing desk faced a wall, I never made anything. When I turned it outwards towards the room, I started getting a lot of quilts done.
Today I decided to to reorganize the back room of my studio. This is the room where I usually dye fabric, make messes, and hide stuff that no one including me wants to see. My painting table here faced the wall, and all I ever did was pile stuff on it.
Now the table is in the middle of the room. Granted looks towards some ugly shelves, but it's not facing a wall. Although it may looks cluttered, really it's organized now. Before I had all my paints together, but was always trying to figure out which were water-based, which were for fabric, etc. Now my watercolors and acrylics are on one cart, pastels on another, oil paints and dyes on separate shelves. According to this article on Feng Shui for Artists, it's not necessary to create a serene zen-like room, but to create a vibrant energy to support your flow of creativity.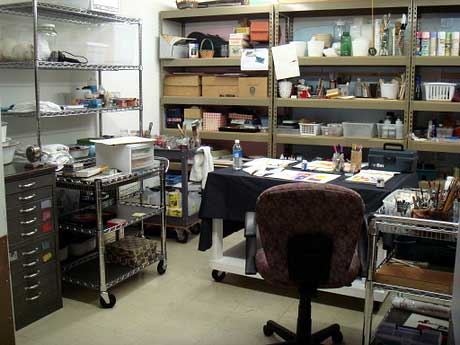 This whole organization frenzy to make room for painting was inspired by last night's First Friday Art Walk where I saw paintings by artist Michi Susan. But how unsatisfying to spend a Saturday cleaning? So about five I sat down with a bowl of M&M's to enjoy my new oasis of organization and play with my paints.
Maybe I should hang some pretty fabric to cover the ugly shelves. They maybe ugly, but very handy — they hold up the wall that I use to photograph my art on the other side.