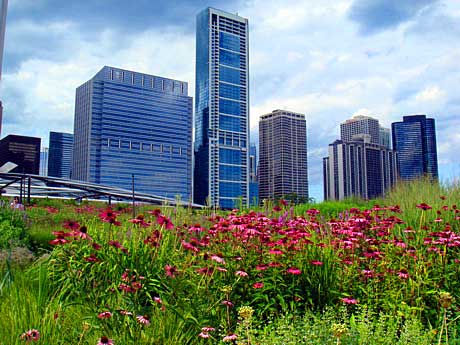 In the middle of Millennium Park is the Lurie Garden. Wandering through the shoulder-tall flowers, I couldn't help but think of one of my favorite Talking Heads song called (Nothing but) Flowers. "This was a shopping mall, now it's all covered with flowers…" Now that I re-read the lyrics, could be great topic for a quilt. After all it's got Adam and Eve in it, one of my favorite themes.
Update for Charlie's Studio post: Because I didn't have any photos to post, Charlie sent me a link to his webpage here so you can see his drawings and sculpture. Be sure to scroll down to Assorted Silly Mushroom Dishes. If I had seen those, I would have bought them at his pre-Christmas sale!
Another fun detour: After working out on the hotel treadmill, I was especially impressed with these guys who dance on treadmills in this YouTube video. Wish I could look this good in motion.