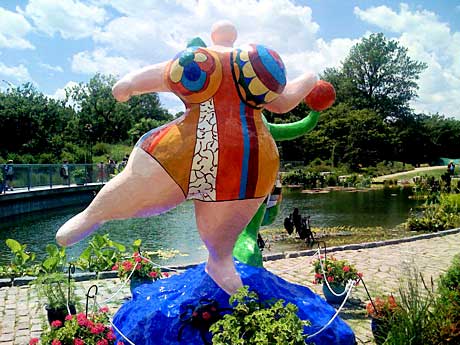 Occasionally a show comes along that so exciting and full of life, color and joy that it's difficult to fit it into a simple blog post. This is true of Niki in the Garden at Chicago's Garfield Park Conservatory. Over 30 larger-than-life sculptures by Niki de Saint Phalle are installed in the already wonderful greenhouses and gardens of the park.
Besides designing sculpture parks and theatre sets, she was also an actress and model. In a video of her life, she is shown doing a series of large assemblages with paint enclosed in plaster — she used a shotgun to shoot the plaster so the paint would explode across the surface of the piece. What a crazy lady! (and as always, I use the term 'crazy' with affection and admiration!)
Phalle is know for her multi-colored Nanas that boldly dance and sometimes even spout water. An exhibit placard explained Phalle's inspiration, "Nanas are like goddesses to me, even superwomen of the sort, primitive tribes idolized. Perhaps they're aggressive — that's what some men think. They certainly know what they want, but they are warm, not mean."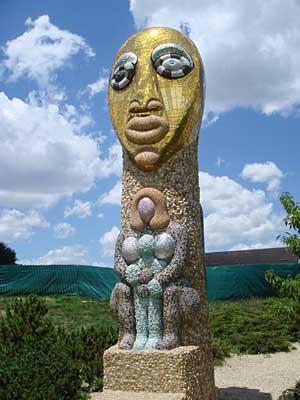 In addition to Nanas, there are huge totems, alligators you can climb,

cats in which you can cuddle, man-chairs for sitting, and an amazing skull lined with a mosaic-mirrored interior complete with bench and delicious pearly teeth.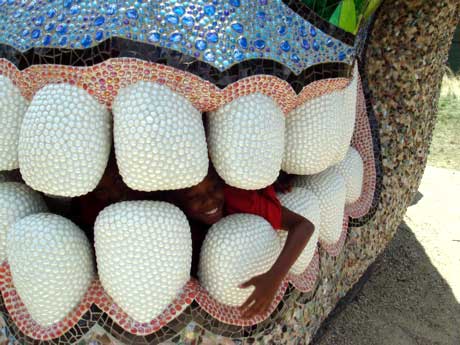 Phalle's work is covered with seductive surfaces that are delight to examine closer because the materials are so well composed and crafted.





(click on any thumbnail for a larger view) After just seeing Cloud Gate at Millenium Park, I was intrigued by the coicidence that Phalle's "Large Firebird on Arch" had a similar, and yet totally different effect. Like Cloud Gate, Phalle's mirrored surfaces reflect sky and land, but in a fractured, more complex way. (far left detail above)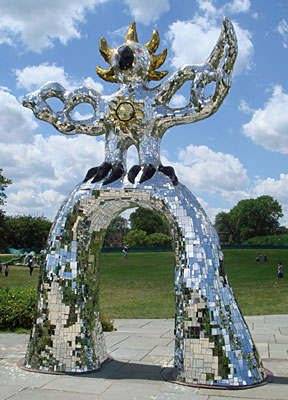 A couple of pieces in a quiet corner of a garden caught my eye. These pieces are not volumetric like most of the show, but are almost linear sketches in air, filled with small toys, symbols and objects. As in all her other works, Phalle shows a judicious use of color and detail.
Phalle says, "When my lungs were severely damaged by working with polyester, air came into my life. I had to learn how to breathe again, breathe deeply. The Skinnys reflect that change."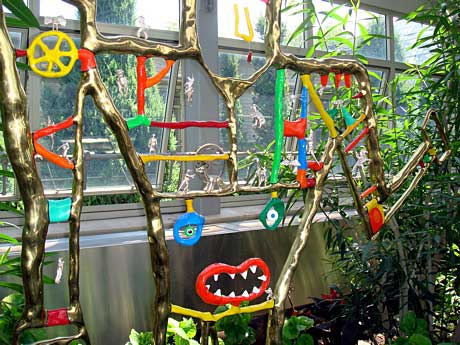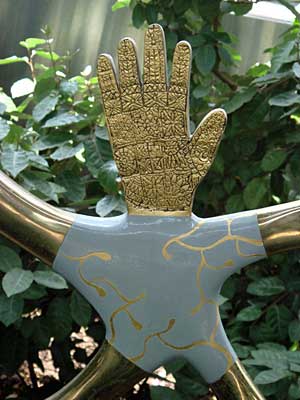 If you have a chance, run, don't walk to Garfield Conservatory before this show ends on Oct. 31. Plan on not only seeing wonderful art, but pack a lunch (or buy a hotdog for a buck) and enjoy the whole day.
And I haven't even posted all my photos of the exotic plants and flowers. I'll leave that to your imagination….