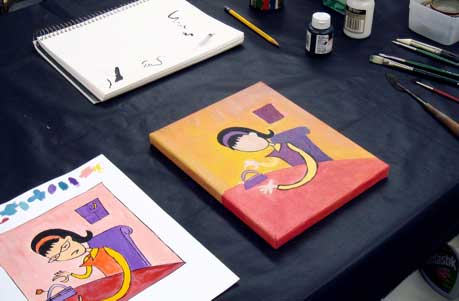 Where have you been? you're probably asking… I don't know really, just bouncing off the ceiling like a silly thing. Seems lately I've either had the opportunity to meet creative people or just take a big bath in the wash of their creations.
In the studio, it's been hot hot HOT, so I have had little inclination to fire up an iron or turn on a sewing machine. In the meantime, I've been playing with paints. In the photo on the left you see a gouache experiment and on the right an acrylic. Also just got back from an Uncommon Threads retreat where I played around (and already washed some essential parts down the sink drain) with my new Airpen. I've also just finished revamping my Quilts and Drawing webpages, so check them out and send me some feedback, please!
Last week I had the pleasure of attending a lecture by children's author David Harrison, who has published 73 books. It was inspiring to learn the story of how he's structured his business life around his writing habit. One of his points that caught my attention — when he was younger he said he chased every single idea. Then as he became a more seasoned writer, he realized writing was a lot of work — so he only pursued ideas that he was really enamored with and were solid, going somewhere kind of projects.
Part of being an artist is play and experimentation. I'm a firm believer in that. But artists can also take his advice to heart, and knowing when to use it is the key.