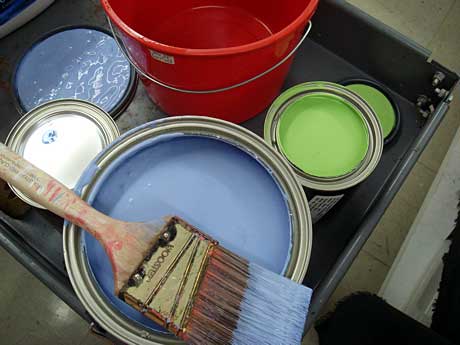 Changing gears again! I haven't mentioned for a while that we're still in the process of remodeling due to the disaster at our studio last January. After getting a new roof, new ceilings and lighting, we're finally getting to the point where I can lend a hand — repainting the walls that were damaged by water.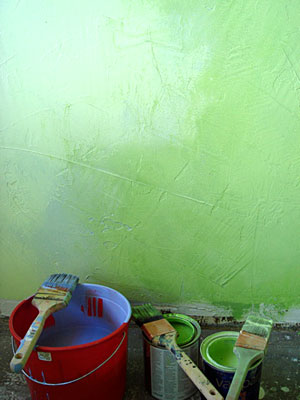 The room where the sprinkler system exploded used to be bright yellow, but now I'm painting it with a green-blue combination — a light green base, layered with periwinkle blue and two variations of green glaze. The layered glazing gives the hand-textured plaster a kind of rich, aged patina.
Faux painting is a great calorie-burning activity because I have to run up and down the ladder three times as often — once for each paint!
The photo below is from my scrapbook of other unique projects. There were five metallic colors layered on top of black walls. The brass tiles were all hand-polished with circular designs by Russ, I think there were thousands…
Oddly enough, some things I've learned from faux painting large surfaces seamlessly has helped me to develop some techniques to cover big areas in my quilts with stitch patterns. Some day I hope to also use some of this paint experience to design cloth for my quilts, but for now I'd just be happy to get our studio back together and looking good!