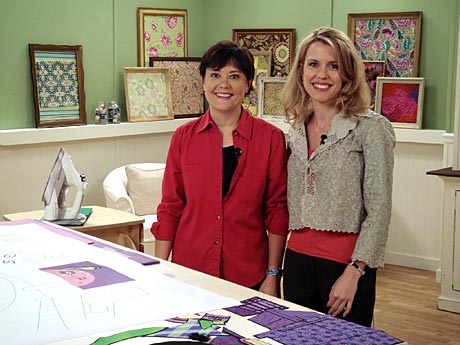 Here I am, a little surprised to be standing by the effervescent Patricia Bolton (Pokey) of Quilting Arts Magazine fame for taping of a guest artist segment for the new Quilting Arts TV that will soon air on PBS. I say surprised because it was a scary trip, through a massive three-hour the-sky-must-be-falling rainstorm that almost made us miss our plane. Luckily Russ took that race-car driving class in the rain last fall and was able to avoid a terrible wreck on a bridge, and luckily I had lots of sealing tape in the car so I could waterproof my cardboard box of quilts.
And luckily, we got to Cleveland in time to visit the tv studio and unpack my gear AND attend a couple of art openings, the 125th anniversary show at the Cleveland Institute of Art and another one at an artist-run alternative gallery called Spaces.

But the next morning, I realize I've brought waaay too much stuff. Not wanting to follow the tried and true formula for a step-by-step project on camera as was suggested, I brought a big quilt to assemble live so viewers could feel the excitement of seeing a project come together. Before when I did a documentary with PBS, I just acted natural, and they edited it later. What I didn't realize, this time the process was different. We had to do it right in front of the camera in real time. Yikes!

Though I had pre-camera jitters and all the layers of studio makeup made me feel a bit like a Kabuki actor, Pokey and the producer were able to help me streamline and focus. In fact with Pokey's gentle cues, we did the whole segment in one take. Yay! Only thing that to be edited out was my mistake at naming a certain product that goes by the initials of W.U.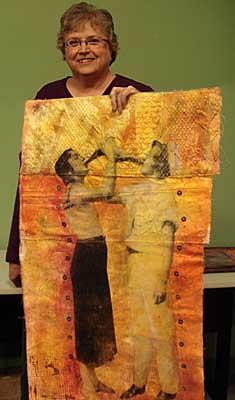 Since I went first, I had the rest of the day to enjoy watching the other artists do their gigs, and Pokey do her in-between bits.
I loved the opportunity to study closely the work of Mary Ann Tipple who brought her series of "Things Your Mother Warned You About" based on vintage photos of her mom (now 92 but still on a bowling team) and dad — collaged, painted, and stitched on cotton duck canvas. I think this one is called, "Drinking."

Here's the other artists in the lunchroom — Laura Cater-Woods and Wendy Richardson — with guest artists like this and Pokey's infectious enthusiasm, the show's going to be a good one. Hiding in the back is Russ, the photographer of most all these photos. Thanks Russ! I wish Judy Perez who is also going to be on the Pictorial quilts episode with me could have been there, but she doesn't tape until Tuesday.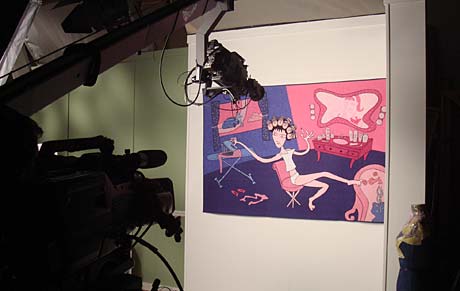 Best of all at the end of the day, my quilts were in front of the camera and I was behind it — which I much prefer. But get a look at this camera — I felt like I was in some spacey sci-fi studio with that big camera zooming up, down, and close-in to animate across my quilts.