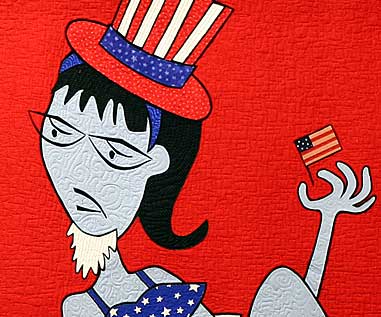 I want to enter a show that's called Icons and Imagery because I think it's a great idea for a theme. But the juror is German and the exhibition will be in England. So this gave me pause — the humor and play on words and images that is a big part of my art, would it translate?
One of my quilts, Robbery at the Lingerie Boutique just returned from from a touring exhibition that visited France, Great Britain, Denmark, Austria, and Australia. Weird trivia — a woman from my hometown, called to say she saw it Austria. How small the world is! But at the same time, how big! And I wonder how my quilt was received by the locals?
Two books I've read this summer Blink: the Power of Thinking Without Thinking and A Whole New Mind both site the research of psychologist Paul Ekman that indicates facial expressions are interpreted the same around the world. But I know this isn't true of hand gestures, and what about graphic symbols? Think how the swastika has changed.
The prospectus for the show gives this definition: An icon (from Greek eikon, "image") is a graphic, image, or picture of some object or actions which elicits symbolic meaning beyond the object represented. It stands for an object by representing some well-known significance or certain qualities. An icon represents something of greater significance than the literal or figurative image. So can any icon be truly universal?
What do you think? And if you're an artist reading this, do you think your work reaches across cultural boundaries?