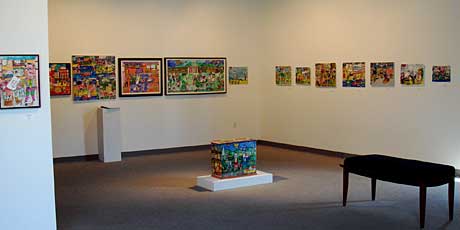 Robert E. Smith, a self-taught outsider artist who has been featured in the Museum of American Folk Art, will be 80 next month. To put together this show at the MSU Art & Design Gallery that spans over thirty years of work, collectors loaned 140 of his paintings for the exhibition. It's a rare opportunity to become immersed in the wacky and entertaining world of Robert E.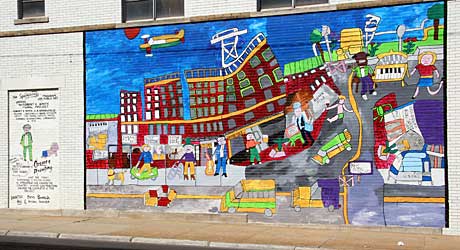 One of the paintings that we loaned is the basis for this downtown mural, and we won it at the auction to raise funds for the mural. But our painting is better because the artists who interpreted the mural for Robert smashed the painting a bit — ours is longer and skinnier.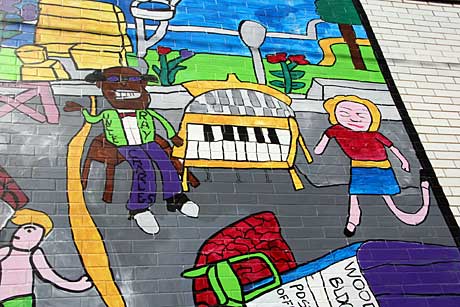 But they did pretty much capture the spirit of the original painting. In this detail you can see some of the trademarks of Robert's story-paintings — famous people like Ray Charles or Santa Claus appear frequently, as does Baby Jane, current events, and personal landmarks from Robert's memory. If you haven't already figured it out, Robert has been a major influence on my art.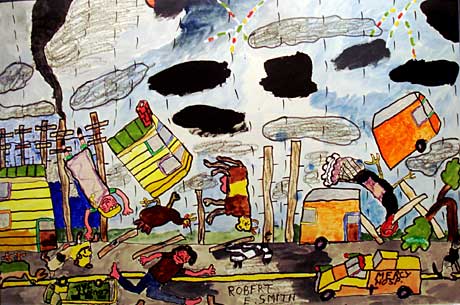 I love the busy activity and texture of his paintings, the tiny details that you have to get in close to see, but most importantly, the humor of the mysterious stories. This painting that I had never seen before is called, "Mercy Hospital, County Jail."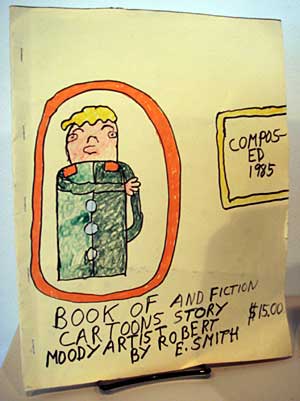 Robert sometimes records his stories on tape, attaching the cassette tapes to the back of his paintings. He also writes cartoon books, giving himself titles that he fancies such as "moody artist" or "notable folk-artist." To see more paintings, go to the Good Girl Art Gallery.