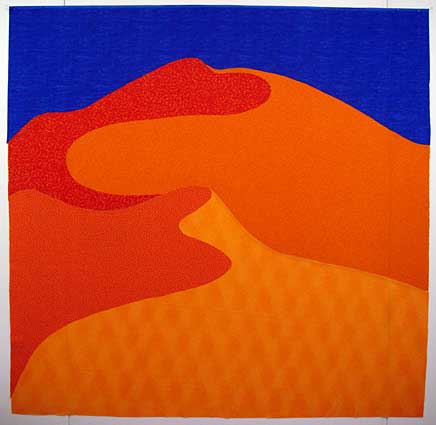 Finally a pot I've had on the back burner all summer has started to boil. If you remember, I started another food-inspired project and then stalled out. I thought the problem was color and some of you tried to help me out with lots of comments, thank you very much, especially Del who sent me to photos like this for inspiration.

So I struggled with color for a long while (that's one reason I draw on the computer — it gives me a lot of freedom to play with the design) and stewed on rhetorical questions like… "what color is sand? What color is sky?"
Someone asked if I use a tablet. I've had several different Wacom tablets, but the Graphire 3 is my favorite. I like the small one because it's portable, I don't have to move my wrist much to draw, and anyway, size is relative on the computer.

When I wanted another for the home, they had gone onto the Graphire 4. But it doesn't have the pen holder on top and the styling wasn't as sleek. So I bought another Graphire 3 on Ebay. Although there are a lot for sale, they go for almost retail price, so I guess other people think the same as me.
But back to topic, sometimes when you think there's a problem, it's not just one. It's several. Which in art, like in medicine or mechanics, makes it much more difficult to diagnose. When I found this strange photo called The Secrets of the Singing Sand Dunes, I finally realized my worst problem was the sand dunes were too flat. Then Russ said the vertical orientation was too skinny. And there needed to be more stuff happening, so I've added some new surprises for you to see later on.

Then I laid out the new colors. When the abstract foundation of color looks exciting, I know I'm on the right track. So that's when the pot finally started to boil…