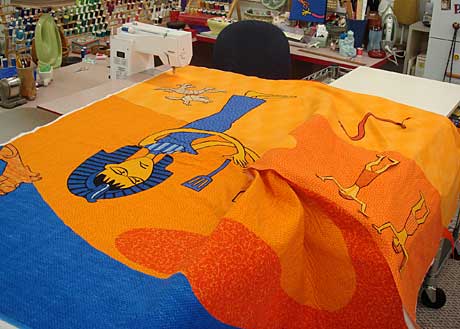 This project had to be mostly done by Thursday night because we left Friday for a big family wedding weekend. My initial thought was to quilt lines that would echo the shapes of the sand dunes in the background, but I knew this would be difficult to do well.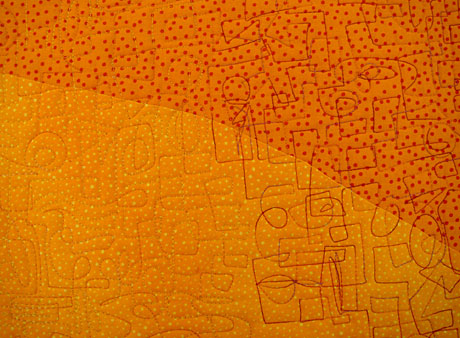 But then I thought of the mysteries of Egypt and hieroglyphs and developed a kind of personal symbolic language to cover the entire background. I enjoy improvising these shapes and can quickly flow them around the odd negative spaces left by the main characters in this quilt.
I wanted to use King Tut thread on the right of the sample for the obvious reason, but opted for the more subtle effect of a lighter-weight variegated thread on the left.

It often takes several test samples to find the variegated thread that will optimize the play between the background pattern and the stitching.

The Great Sphinx of Giza is something didn't think to include until late in the game. In Egyptian mythology, a sphinx is half man and half lion with eagle wings. I thought it would be nice to give him some cat-eye glasses although I don't know how they would stay up since he's been missing a nose for over 600 years. When I found this painting of Napoleon and the Sphinx, it reminded me that in the 1700's, the Great Sphinx was just a head in the sand, until someone decided to dig down a little deeper.