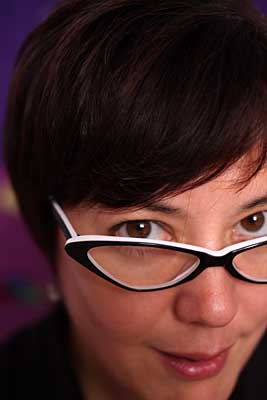 My husband says Picasso always stared bug-eyed into the camera, so I did a little looking and found that he did look bug-eyed when he was young and old. I guess this is how he perceived himself, or maybe how he wanted others to perceive him, judging from these painted self-portraits from 1907 and 1972. Some people craft their personality as carefully as they craft their art.
Many thanks for the comments on my last post. It's always fun to see what people like and the reasoning behind your selections gave me lots of food for thought. Alyson asked a good question — the answer is Quilting Arts Magazine is working on an artist's profile. I'm excited because the feature is usually several pages long with excellent photography. I sent them six quilts last week for photography and had an interview with Cate Prato (what a great name, wouldn't you love a name that sounds like you're a secret agent?)
Many comments were strong for the top moody photo, but the zebra-sunglasses were popular too. I read somewhere that Princess Diana often tilted her head down and looked up at the camera so her eyes looked huge — so for fun I tried this. Some of you commented that this combined with looking over the top of my reading glasses made the viewer feel like they were being let in on a secret, something I thought would compliment the humor of my picture-story quilts.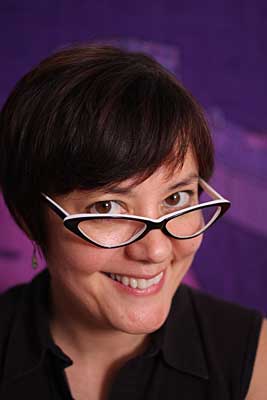 Based on early morning comments, I had already gone back to my folder of upteen-zillion photos, found this one and sent it. Maybe I should send a p.s. alternative and attach the first photo. I do like the zebra-glasses, but not sure they're right for the article.
I know from editing video which is 30 frames a second, a person can look happy one second, sad the next, innocent or evil, intelligent or stupid. It's all a question of which frame you grab. It can make a world of difference, and if someone else is doing the selection — you're at their mercy.
update: I tried to send the second photo to the magazine, but it was too late, they had already placed the first photo into the layout (or they just liked the first photo better, but didn't want to tell me)Â  🙂 Anyway, they just sent the proof for the article, and it looks great, so I'm happy!