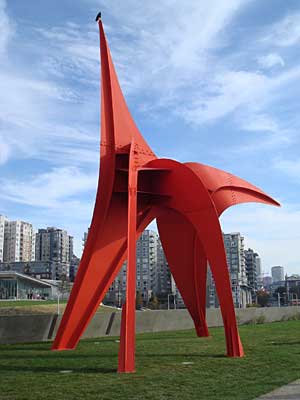 Sunday was a beautiful day in Seattle. The last sunny day, my friend Susan told me, for the next nine months, so a great day to tour the new Olympic Sculpture Park. It's a zigzaggy park that switches back and forth, up and down over reclaimed brown fields surrounding the railroad that runs along Elliot Bay.
Here's one of Calder's stabiles (as opposed to his mobiles.) Look at the little bird perched on the very tip of the piece, which happens to be titled Eagle.

Serra's powerful Wake was designed using computers and a demilitarized machine that once made French nuclear submarines.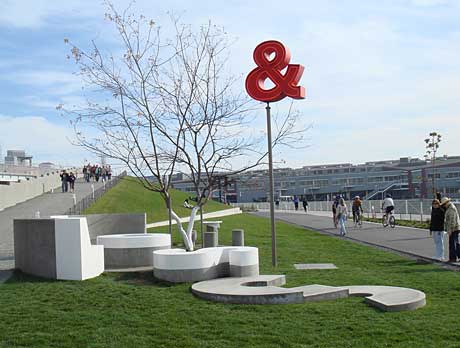 But my favorite of the day was artist/furniture-maker/architect Roy McMakin's landscape installation called Love and Loss. It's full of verbal and visual puns —

L is the high bench, O is the table, S is the lower bench, another S is a stair-stepping sidewalk. Look closely, the painted bark on the tree makes the V in LoVe – a tree that seasonally blooms and loses leaves in nature's cycles, much as our own lives have such cycles.
You can see all the sculptures in the park on a flash tour on the SAM site, which thoughtfully shows the full park overview and where each piece is located

Susan drove us around town in her bright red Mini, to Uwajimaya for fresh crabs and oysters, and to her house to eat them. Also to Kobo on Capital Hill. If you embrace wabi-sabi like Christine, check out their cool site. Today I'll try to get to the other Kobo to see the exhibit of wax and ink drawings.