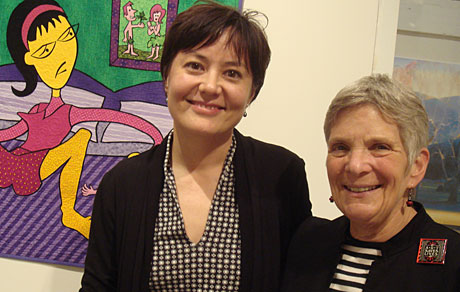 Yesterday was the last day to see Quilt National 2007 in full at The Foundry Art Centre. Today the exhibition will be split into three parts and sent to different venues. The section with my quilt "It's Only a Leaf" will be at the International Quilt Festival in Houston, October 29 – November 4.
This photo is at the opening of The Foundry opening last September. I look a little frazzled because I was running between events for my brother's wedding and the show opening. The woman next to me wearing the "Art Saves Lives" pin is Jill Fisher who organizes this branch of the QN exhibition as a fund-raiser for the Women's Support and Community Services of St. Louis.
And the two people in the frame behind my head are Adam and Eve, who have just realized they may be wearing poison ivy leaves.