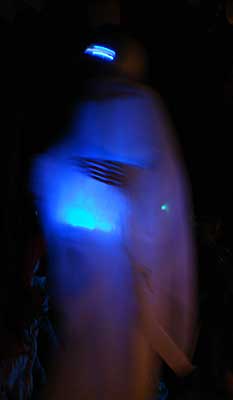 After bringing the scaffolding home from the studio, rigging an old sushi restaurant sign on top, and lighting it for two nights, the neighborhood was primed for the KaBOOki HauNted SuSHi BaR.
We got around 600+ kids and lots of curious adults. It was great fun to have them explain their costumes before they ordered from the sushi bar, and actually turned into a long line for most the evening. Lots of ninja, goth cheerleaders, spider men and women, and a few chickens and dinosaurs.

Not many people have a Hoshizaki sushi cooler to serve candy. For the kids who actually WANTED sushi, I had to explain the chef called in sick, and we only had candy and cookies.
After most of the trick-or-treaters left, a ghost visited our house. I got this photo as evidence, but later found out the ghost was actually a remote-control invention built on a wheelchair base. I guess craziness attracts craziness. But what do you expect from a girl in a retro kimono, ghoul face, and swiss cheese watch?