Update in 2009: Actually this email list didn't work, so Alyson was right. I've dropped closed the email list, and started another blog that's a blend of art, business, creative networking, and innovation called the Creative Brain Blog.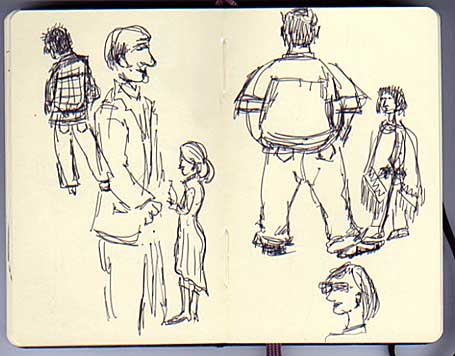 To my last post, Alyson asked if I considered organizing a blog instead of an email list. No, because in my experience, very few people will actually post to a blog. I started a group blog early this year, and it is difficult to get anyone to post to it.
I find even most people who are subscribed to email lists, rarely post. But they are more likely to post an email to a subscription group than to post a comment on a blog. Let's face it, even though blogging is big news, the people who really stick with it are the exception rather than the norm. Just like speaking in public frightens many people, writing in public can be uncomfortable also.
My goals for the artists' email list is to build communication between artists and artists groups in my area, and a list seemed a democratic way to do it. Other arts in our area such as the opera, ballet, symphony, and theater are strong and centralized, with each having its own board and staff. Visual artist groups tend to be much smaller, all volunteer, and often do not collect enough dues to make paying the Regional Arts Council group membership dues which would make them a member organization which would also entitle them to stronger representation. I also feel that because artists are spread out and isolated, they don't have as much voice in local public policy as do the centralized arts groups I mentioned before.
On the other email lists that I have been a part of, I have seen many thing develop and bloom, not from one person's initiative, but from a consensus of several motivated people. I've seen a lot of information and resources exchanged, and I've been lucky to make many friends and contacts through email lists.
I believe that at the beginning of anything new, it's important to open strong lines of communication and build from there — but then, that may be my bias because I was a communications major in school. I don't want to be a controlling or responsible person behind the blog, I want to get an email list started that develops a life of its own.