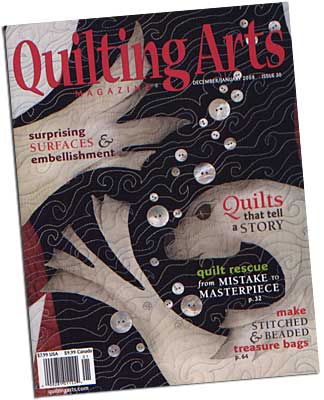 Wowee, the new Quilting Arts magazine is out, and I think it's the best issue ever. The emphasis that QA has put on publishing articles about sketchbooks, concept and design development, and innovative techniques has made this the go-to magazine in the art quilt world.
And as usual, the excellent photography makes the articles even more delicious. Judy Coates Perez has an article about a new technique she's developed, Vicki Hallmark has an article about using space-age materials, Frances Holliday Alford has a yummy recipe for bead soup. And Sara Lechner's article makes me crave a needle-felting machine (scroll down her blog for a gander at her glass house studio!
Of course, I may also be a bit biased about the issue, because PaMdora got a whopping six-page spread! Thanks Patricia Bolton for creating and growing a great magazine. And thanks Cate Coulascos Prato for writing such a nice article.