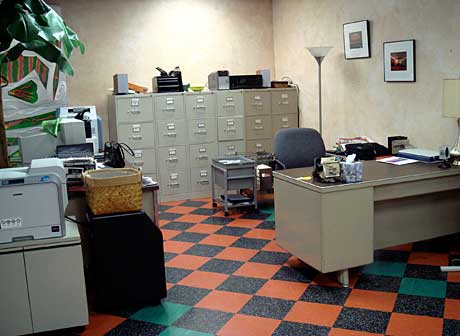 Early in December I read Getting Things Done: The Art of Stress-Free Productivity (I'm a sucker for anything that has Art in the title) by David Allen — a book that really speaks to me. For the first time, I've found an organizational philosophy fits my lifestyle. I've also been beta-testing a new Mac project management program called OmniFocus that I love — in fact I've pre-ordered the program which is due to be released in January.
I like the GTD philosophy because it focuses on defining and acting on the Next Step, something that is particularly helpful if you're feeling overwhelmed. What can I say? — it's that time of year!
Actually I haven 't had an attack of an organization bug in a long time, and had been doing pretty well the last few years just sticking stuff into drawers. But then disaster struck our building, and we lost several computers, hundreds of files, and the ones that were saved got all mixed up during the office evacuation. Suddenly in one short week, all my systems were broken. Since then, I feel like I've been walking on quick-sand, just trying to keep moving so I don't sink.
This is where I've been working since we moved out of the Tiki Office last summer when it started getting really hot. It's a great space to work — lots of light and room to spread out several projects, so maybe I'll just stay here. It also looks clean because this photo was taken before I started this organization frenzy and hauled in boxes and crates of stuff that need to filed or shredded.