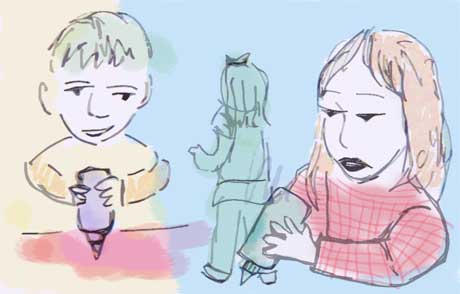 On New Year's Eve, I volunteered to work at First Night — an Arts Council sponsored event-filled night for people of all ages. Working in the hands-on area, making noise-makers out of paper plates and beans seemed the most fun. With all the kids there, guess who stapled her own finger? Ouch!
When I wasn't helping kids, I was drawing them. Kids are a challenge because they move so much. Most of my drawings are only half finished.
Thinking about New Year's resolutions, I liked this post on Christine Kane's blog about scrapping those lists and deciding on one word as a theme for the year. But most of the words on her suggestion list are words of being, and since I'm in the GTD (getting things done) mode, I want an action word.
Immediately I thought of my friend Emmie's suggestion to SIMPLIFY. Actually Emmie just posted a good entry that ends with "Simplify, work quickly, spontaneously, and intuitively." Good mantra for the new year.
But I've also been reading The Art of Eric Carle. And this year I want to continue my exploration of new media, so I also like the idea of adopting the word Play. So what's better, Simplify or Play?