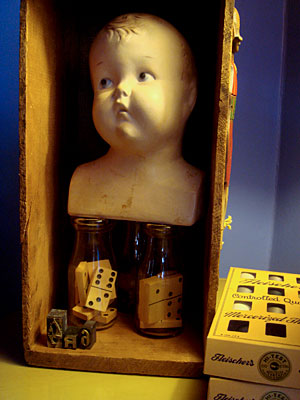 This is a construction of found objects that I made. I find it relaxing and at the same time, energizing, to play with objects like building blocks.
As we approach the anniversary of the terrible ice storm that paralyzed our city last January, we continue to have freaky weather.
Last night was a scary night filled with sirens and a deathly-sounding wind. 35 tornadoes touched down in the Ozarks, one only a few blocks from our studio. Here's the news story. We had some damage, but nothing compared to others. It tore down some buildings and smashed trucks and a huge Krispy Kreme sign that I always wanted to feature in a quilt about a donut factory. And sadly the mother of one of our clients was killed when a tornado leveled her house.