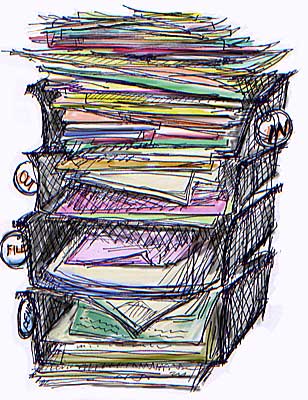 This is a drawing of my in-basket. I guess I'd rather draw it, than do it!
For weeks I had on my to-do list an item "Send images to Curator." Actually it was one of several items that have to be done for an invitational show at the Lux Center for the Arts that I'll be part of this April.
Sounds simple, why was I procrastinating? When I actually did get it done last weekend, here's some of the nitty-gritty details:
Decide I needed to make my selections for submissions visually, so started looking for images of available work in various folders on two different computers.
Looking at the images, realize I need to re-photograph some work. Decide there isn't time so I have to make what I have work.
Realized there may be a conflict with other shows that I might want to enter, so make a list of shows and deadlines.
Study the criteria for each show and prioritize which I really want to enter.
Decide I need a database for the images and all the data of each quilt, i.e. size, date, availability, etc. because all my information is scattered.
Start fooling around with trials of two databases I'm considering using: Bento and FileMaker Pro.
Decide it will take too long to develop a database right now and go back to using a print-out of an old spreadsheet.
Update the spreadsheet with scribbely pencil notes in the margins.
Figure out a way to make a computer folder of each show I want to enter, and move thumbnail images between the folders, until I have a satisfactory entry for each show.
Analyze the images for quality in Adobe Bridge CS3 (which I'm just learning to use.)
Decide on which detail images to include with the full-view image.
Resize the images to the requirements of Curator.
Send the images in an email.
Or in the case of Visions, make a CD.
Get the CD in the post to arrive in time. I usually use second day FedEx, because I'm always almost on time…
Oh, so that's why I didn't just get that one "item" done between lunch and my afternoon snack. 🙂
Sometimes I think we procrastinate because we haven't acknowledged that a task on our to-do list is actually a project and needs to be broken down into smaller steps. The smaller steps are do-able, but the overall process can be overwhelming if we don't break it down.