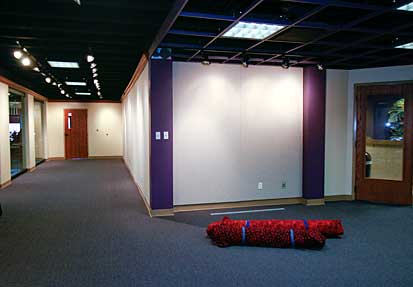 Last night as I was packing up quilts for my upcoming solo show at the Driskill Gallery, I was thinking one is easy to roll up and ship to a show, but sixteen is a lot to handle. Then I got to the gallery this morning, and I remembered why I started making art quilts in the first place. Not many other art forms can fill a whole gallery with just a couple of funny-looking burritos.
They look small in the gallery space, but wait — they are amazing exploding burritos! And out pop all the quilts, much to gallery director Dianna Callahan's amusement…

Actually sixteen big quilts was too many for the gallery, so I brought three home. But there are a few odd-sized smaller spaces, so I'm back in studio, looking through some small work. Trouble is, I don't make much small work.