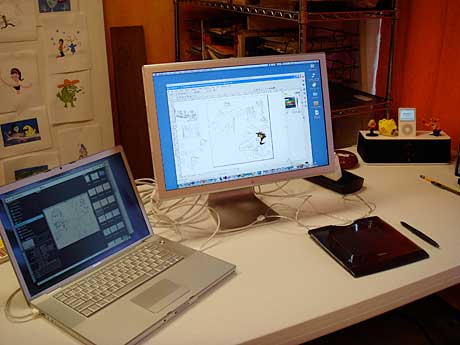 Nice monitor huh? Got for my birthday, and it plugs into my laptop to give me two screens for drawing and looking at reference material.
Drawing for quilts is different than just drawing, because I have to remember that eventually it will be used as a pattern, and that I have be able to construct everything that I draw.
Thanks Grace Matthews for this post which quotes Faith Ringgold, "Underestimation is a psychological tactic for artists. When you employ this tactic you convince yourself that the upcoming project is not really so big or so bad, that it will not take much time and that in fact it's a piece of cake. This method of trickery helps you to tackle the biggest of projects and makes the project less daunting and more manageable." This is a great idea and has helped me getting started tackling some projects I've been worried about.

But most important, little friends and good music help oil the creative machine. Right now I'm listening to Lemon Jelly.