I can't believe April is already half over, and I haven't yet told you about this article. Last December Patricia Bolton asked me to submit some information about my studio for a special edition of the magazine Cloth Paper Scissors.
Having a lot photos for this blog and just general shutter-bugitis, I sent some in with a brief written tour.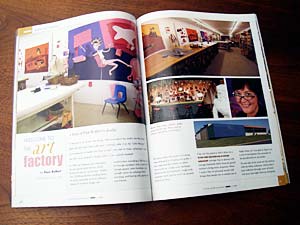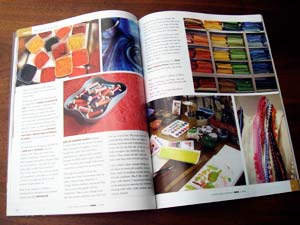 So here's the result. You can pick up a copy at bookstores, or order online here. There's lots of fabulous studios featured, I'm loving Jane Davila's studio and of course, Sara Lechner's — had to crack up at her story of buying 75 sets of shelves. And I thought I was crazy!
Also lots of great organizational tips for studios. Seems ironic that the article would come out just as we're trying to finish up renovating the front of what CPS calls the "art factory," but never fear — the part in the magazine remains true to the photos, so you'll be seeing the real deal.
Meanwhile I'm sooo excited, can hardly wait until tomorrow when they will start installing the new bamboo floor in the front offices. Hope the finished product is worth all the agony of moving out again and the dust and noise.
We're going for a complete change of aesthetic — more like a gallery feel, so it will be fun to have something different and better for photographing art than the old orange-black floor (it has been Halloween 24-7 for eight years — enough already!)