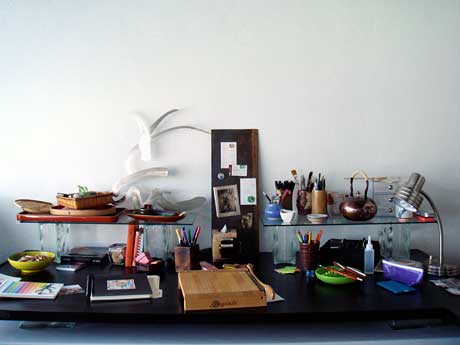 When I redid my office, I wanted a blank slate — with big project tables and open space to think up new projects. Then I saw a documentary about the architecture of a traditional Japanese house, and I understood what I had been striving for. There is no assigned function for rooms. The objects that are brought into the space define the function of the space.
Here's one of my project tables, a little cluttered, but flexible space to work. Glass shelves held up by glass bricks, a piece of rusty metal for a magnet board. I'm thinking about painting the wall with magnetic paint (actually it's not magnetic, it just makes the wall metallic so that magnets stick to it. Anyone tried that stuff?) But I don't want to hang art on it. I like the white wall, like cloud, like a dream that hasn't yet developed.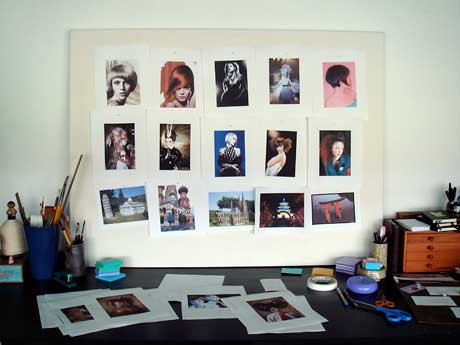 On the other project table, I've brought in a small pin board to study my research. The internet is great for research, I especially am loving Flickr for inspirational photos. Photos like this or these. I don't copy the photos into my art, only use them as inspiration for things to draw.
Working with new ideas is fun, exciting, but also scary. I wonder if I can really make my crazy ideas work… they seem pretty good in my head, but when I try to write about them or make them real, not sure how well that's going to work.