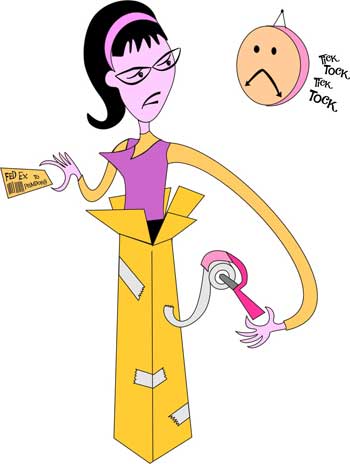 One  of the reasons that I started making art quilts back in 2004 was that I thought I could make big colorful stuff, roll it up in a box, and easily ship it to faraway places. I realized this has come true when I was updating my exhibitions page and saw that this fall I'll be showing quilts in California, Colorado, Oregon, the Netherlands, the UK, and Africa.
Wish I were there!
Even though it's easy to ship, I always stall out in the packing stage and procrastinate until the last minute. Besides, I don't want my stuff sitting around in some mysterious storage room. As I drew the clock with the 8:30 pm FEDEX deadline, I noticed that it sort of looked like an un-smiley face. Gotta change that bad habit!
Sometimes it's a little weird shipping your art off to who-knows-where. You wonder where it's going (don't always know on these traveling exhibitions) and who's going to see it. Reminds me of the old Police song, Message in a Bottle: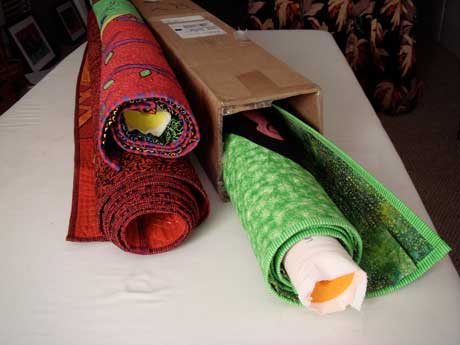 A year has passed since I wrote my note
But I should have known this right from the start
Only hope can keep me together
Love can mend your life but
Love can break your heart
I'll send an s.o.s. to the world
I hope that someone gets my
Message in a bottle yeah….
Walked out this morning, don't believe what I saw
Hundred billion bottles washed up on the shore
Seems I'm not alone at being alone
Hundred billion castaways, looking for a home….