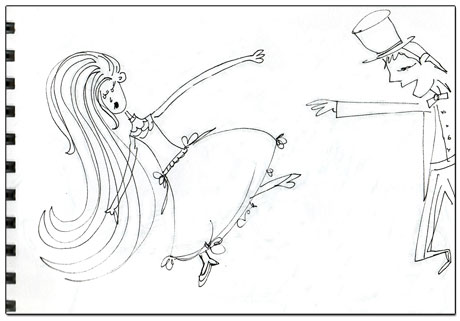 Guess where I drew this? Yup, when I was getting my hair highlighted! Since much of the summer has been spent away from the studio, I have been working a lot in my sketchbooks. I can easily stick a sketchbook and a pen into my purse or backpack and am good to go.
I like drawing with pen, usually a Micron 03 archival pen or Pigma archival brush pen, because it forces me to keep things fresh and think about the deliberate use of line. Things just happen in pen, both good and bad, and I have to start over with a new drawing if I want to make changes rather than re-work it or erase.
This is an idea I'm working on for Niagara Falls. First I had the idea of the waterfall hairdo, then the idea to add the wedding couple.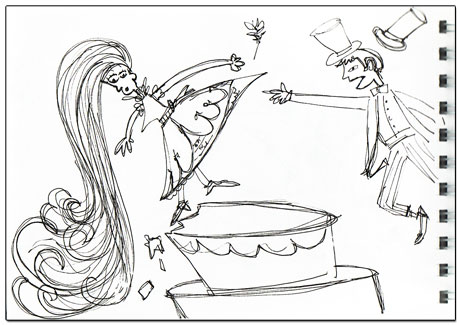 Then the idea of falling off a wedding cake like a cliff. Also I added an embroidered dress I saw in the movie Kamikaze Girls (great funny quirky movie, my new all-time fav!) but it doesn't look like a wedding dress, so may have to do a little wedding gown research.
Also, there's not room for the groom on the wedding cake, so may have to re-think him too. In my overly-complicated way of thinking, I'd love to add a bunch of bridesmaids running for the bouquet, but I know I don't have time for that.