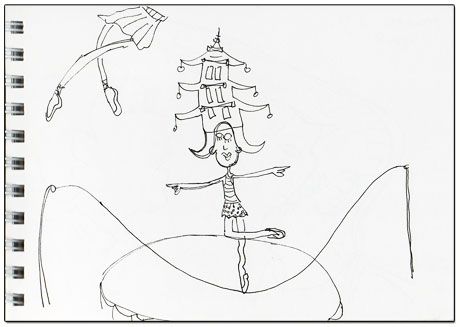 Gerrie asked about the motivation behind this new series "Wish You Were Hair" and it's true it's inspired by my collection of vintage postcards. Also my fascination with travel and world monuments and landmarks…
But the real motivation — I can't get out of mind the kids who come through the Creamery Arts Center. I've been trying to put stuff into these pieces that I think kids will like, and if they come with their parents, there will be interesting things to talk about.
Just outside of the exhibition space at the Creamery are ballet classes, so I drew this tight-rope dancer. I guess I've just always wanted to draw a circus, and won't it be fun to play with color here! I'd like to add a little tiny elephant on the ground below, and I don't know what building this is, so for now I'm calling it TipToe Temple.