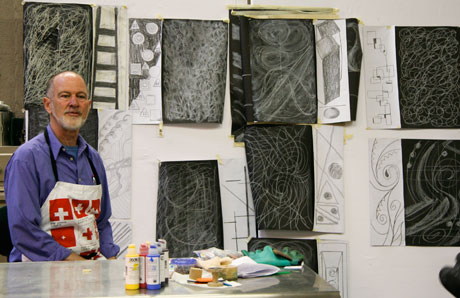 The weekend of the ThreadLines opening reception, Jason Pollen led a two-day workshop called "J-o-i-n-i-n-g-F-o-r-c-e-s." Each day he led a series of different drawing exercises on black and white double-sided paper.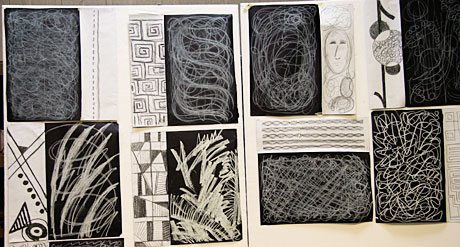 This was the most complex exercise, prefaced with discussions of astrology and self-control, a random drawing and a self-controlled analytical response. This was probably the thing that I most took away from the class — a strong reminder that in drawing, every mark should be a response to the previous marks. I later tried to apply that also to some of my experiments in fabric.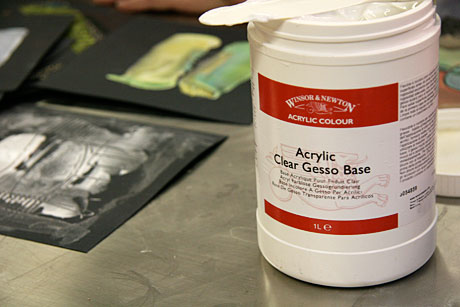 Drawing with graphite and chalk were followed by creating small experiments in texture with this clear gesso paste, which were then painted, stitched and otherwise altered any way we wished.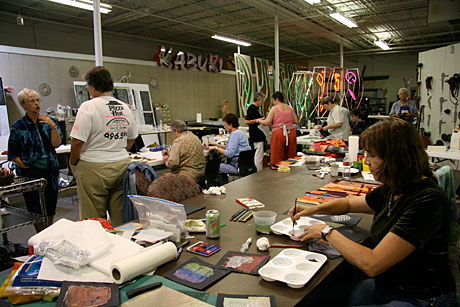 Clearing out the space for twenty people to work in the shop was a job, but created a great creative environment. And  having one of Russ's neon sculptures flickering in the background probably played into our minds as people often used works like "charged" and "electric" and "shimmering" during wordplay exercises.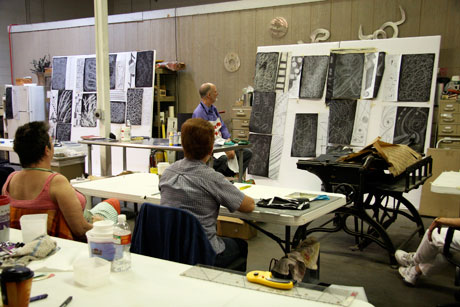 We brought my pin boards out the fiber room to pin up and look at the drawings.  And the most wonderful tool of all is hard to see, but check out the black cast-iron 100+ year old paper cutter — great for chopping up big drawing papers into excercise-sized pieces for the group. Russ got that at an auction a few years ago when a school tablet and sketchbook factory up the street went out of business.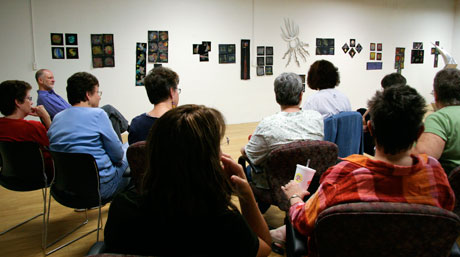 For a wrap-up, I cleaned off one wall of the gallery so everyone could tape up their work and discuss it. (except for the squiggly aluminum wall piece – couldn't get that off the wall.)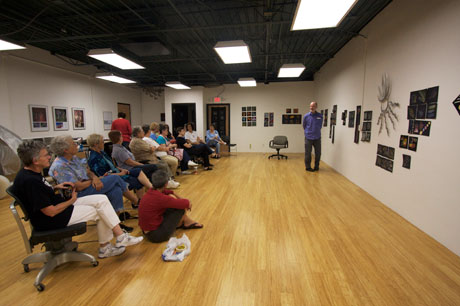 Jason didn't much like our fluorescent lighting, but really we just got the floors and walls done, lighting is next on the list.
Jason was amazingly good at challenging each one of us and providing a broader context to think of working with fiber — a weekend well spent. For photos of some of the work done in the class, check out the Uncommon Threads post here.