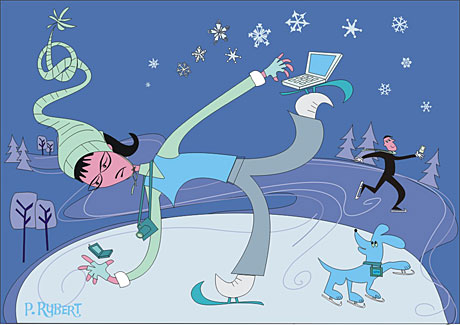 So here's the final drawing, ready to cut into fabric. I always feel so much better when I turn the corner on a project and feel it's headed in the right direction. You can see how I was working towards this in my sketches in this previous post.
An artistic project is a process, and it's funny how my ideas can change during the process. I make the art, and the art changes me.
Originally I wanted to do something about how our dependence on technology that at times seems so fragile, how it's like skating on thin ice and was planning to put words below the ice to demonstrate system glitches and technology failures.
But I was having trouble figuring out how to do words-below-ice imagery. So instead I decided to just use objects, and quilt patterns of skate-tracks into the ice instead of words. Then as I drew, the story came to be more about how with our eye distracted by technology, we sometimes we lose our way. PaMdora is off-balance even though the man in black makes it look easy. The dog with the GPS is trying to point the way. And the snowflakes become stars. As I was drawing the snowflakes, I was thinking about how people used to find their way by the stars.
Sometimes I guess we need to turn it all off and look at the stars.