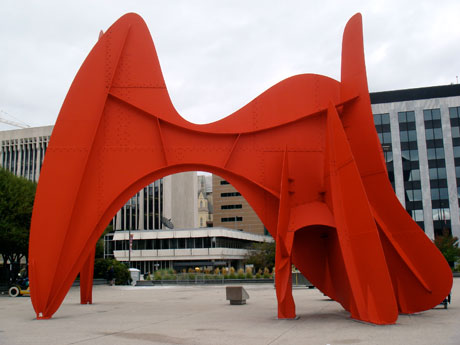 Yesterday we went to visit this sculpture by one of my very favorite artists Calder, the master of cool shapes. I read somewhere he said, "My fan mail is enormous. Everyone is under six."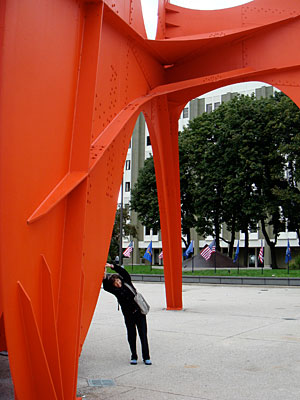 Unfortunately we missed the big Obama rally that was held underneath the sculpture by just a few hours, because we were inside at the conference listening to the history of this piece and how it was one of the first public art installations funded by the NEA — after Nancy Mulnix Tweddale wrote a long-hand letter to then congressman Gerald Ford for support. So artists, maybe we need to get back to writing long-hand for our agendas and skip this email stuff!
Russ took this photo of me testing the weight of the sculpture — yes, it is too heavy to lift.
The rest of the day was busy with lectures at the Meijer Sculpture Park. I took pages of sketch-notes at a mentoring session with Patrick Dougherty who makes fantastic sculptures out of sticks, and at a profound keynote address by Barcelona artist Jaume Plensa, and will have to wait until I'm home to fully reflect on it all. Both are artists I've mentioned on this blog before, so you can check the links in the meantime.