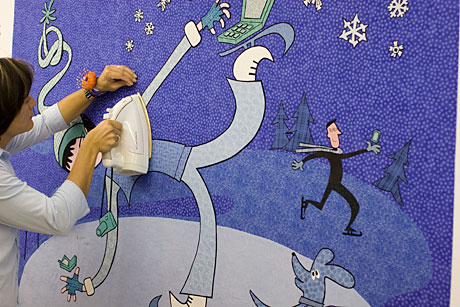 The editor at the last book I submitted photos to complained that my photos were not good enough, so I've been working on my photography. Something cool I learned this week was how to use the auto-timer on the camera. So I can set up the camera on the tripod, then run around to get in the picture. This photo probably give you a better sense of what it's like to work on one of these quilts, since you can gauge the scale.
A couple days ago I finalized the design on the wall and started to fuse everything down. The fusing is only temporary, things almost immediately start to curl up and fall off. But it's good enough that I can get in under the sewing machine and stitch everything together for good. Did I whine it took a lot of time to cut snowflakes. Now I'm sewing them, which could be worse!
Thanks to Virginia, Gerrie, Jeanne, and others for reminding me about Blog Action Day/Poverty. I missed it here, but their posts reminded me to get off my duff and donate to The Kitchen, a great local organization here that provides food, job-training and medical care to people in need.