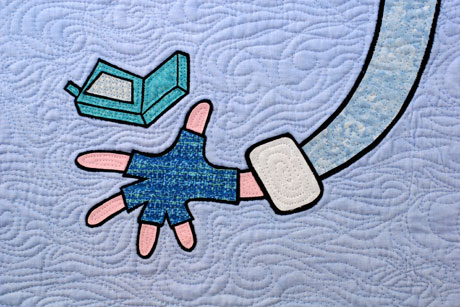 Quilting the ice is what I was most worried about. I finally decided that I that I wanted a swirly, skatey pattern, and was thinking about how ice skates leave those white scratches in the ice that get covered over and over.
What was that term that Jason Pollen used for layers and layers of drawing marks made on top of each other, like on an old chalkboard menu where yesterday's image is ghosted behind? Can't remember, oh well.
The skating marks slowly transform from swirly to crackly at the bottom, where PaMdora's skate blade precariously balances. Not sure how successful that was, but it was an interesting experiment.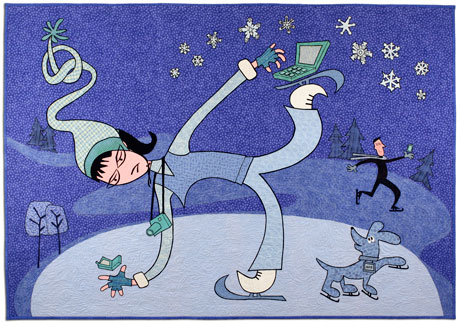 Here's the finished quilt, Skating On Thin Ice — it's 42″ x 61″. Today I have to ship it off to The Netherlands along with another winter-themed quilt for a November-March exhibition at the Fries Museum. For a couple of weeks now, I've been stressing about how to do the shipping, but this morning got it worked out with the museum register. She was very nice, and told me that some of the hundreds of quilts — both traditional and contemporary — were already arriving at the museum.