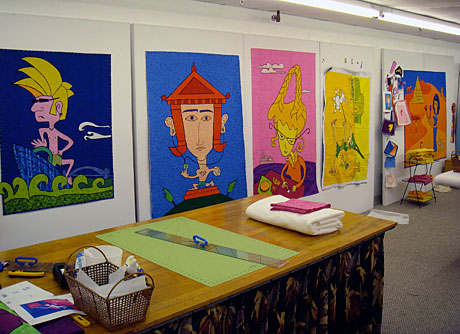 Lately it seems that the word-making part of my brain has gone on early holiday. Or maybe it's honing so many short tweets has hampered my ability to string together a paragraph. Oh well, less words, more room for photos? Not really true on the web, but here's the photos:
View of my studio as I was working on the Wish You Were Hair series of quilts. These are quilt tops pinned to design boards just before quilting. Wish I could retake this with my new auto-timer photography trick and run into the photo, but the moment has passed.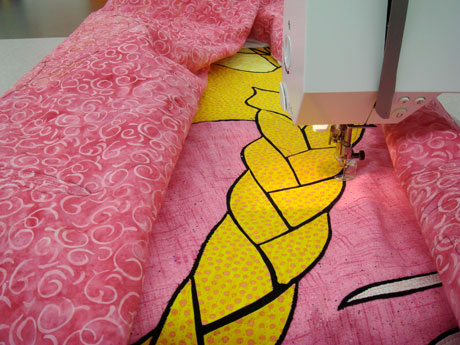 For backings, I use batiks that seem to carry the same colors and theme as the front — for one reason because as I roll up the quilts to sew on them for hours and hours, I can enjoy the fabric. I try to keep good psychic energy going throughout the making process, and continuity of color is one of the ways. If I get in a bad mood or have trouble while working, I try to leave for a while or change the music, or change my thinking. I want nothing but good energy to go into my work. Stitch patterns are like handwriting – you can sense the emotion driving the writer.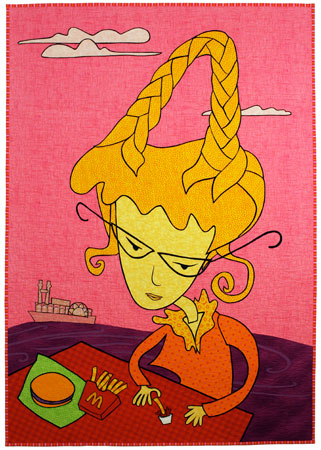 Since I haven't gotten these on the website yet, you may not have seen the finished quilt – "St. Louis – Wish You Were Hair." Kind of my nostalgic look at being a kid in St. Louis and remembering trips to the Gateway Arch by the river, and eating at the only floating McDonald's on a river boat (now gone.)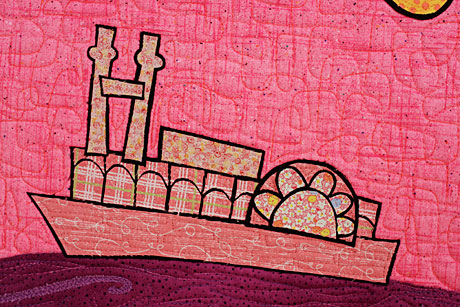 Speaking of energy, here's an alternative — riverboat driven by flower power. Notice the swoopy loops of stitching in the background. Today I'm going to focus on getting some more photos of background patterns, so it may be another day of evaporated words.